Eagle Rocks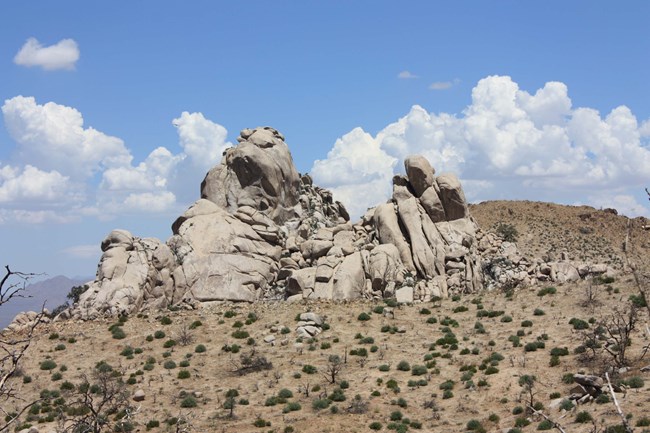 Eagle Rocks
by Rana knighten
Rising above the Mid-hills area, Eagle Rocks is a scattered jumble of granite boulders standing in marked contrast to the gently rolling surroundings. Despite its accessible location, it has the feeling of being miles away from everything.
At the beginning of the route, the landscape is dominated by sagebrush scrub interspersed with juniper and pinyon pine—uncharacteristic of most people's vision of the Mojave Desert. Indeed, at about 5,600 feet in elevation, the area provides a slightly cooler and wetter respite from the extremes encountered at lower elevations. Pinyon was an important food source for the Chemehuevi, Paiute and Ancestral Mohave Indians who once inhabited this region. The fat-rich seeds are also a critical resource for small mammals and one bird species in particular: the pinyon jay. The jays and pines have a complex relationship in which each allows the other to thrive. Pinyon jays are seed hoarders, gathering pine nuts and caching them for later, leaner times. Later in the year, male jays unearth their small mounds of seeds to entice would-be mates. Big, heavy, and not easily carried by wind like most conifers, pinyon seeds rely on jays to transport them to new locations to grow.
During a recent visit, the jays sound angry as I hike past, calling out at me with raucous voices. Jackrabbits, cottontails, and ground squirrels, too, bound away as I draw near. After a short walk, the shade and sounds of the green forest give way to an open valley scattered with the blackened skeletons of pines.In 2005, the Hackberry Fire destroyed all but a few small pockets of precious forest in this area, but evidence of this land coming back to life is everywhere. The ground is covered with a variety of desert shrubs and yucca, clumps of wildflowers line either side of the wash, wildlife abounds with butterflies, moths and a variety of bees flying from flower to flower. Side-blotched and leopard lizards scurry across my path as I descend down the wash.
Rounding a hill, the gigantic granite piles suddenly loom up into view, towering several hundred feet above the surrounding landscape. I hike toward the base of the house-sized boulders and start exploring. I could easily spend all day here, climbing over the rocks as they slowly reveal their secret nooks and crannies. Wildflowers and cacti are tucked neatly into the crevices and the random pilings create countless small caves. There are dozens of passages through and over the rocks—I choose one of the easiest and start up.Eventually, however, I decide I can go no further. The rocks here are old and eroded; with one handhold, an entire sheet of rock comes away in my hand. Instead, I find a nice-looking place to rest. You wouldn't think that rock could be this comfortable, but the centuries of wind and rain have carved out a perfect me-shaped depression to lie in. Looking up, I see red-tailed hawks soaring overhead. A couple of ravens investigate me, circling around my pack laying several feet away.
The silence here is almost perfect, broken only by gusts of wind. From my vantage point, the wash continues down through hills, passing other granite outcroppings and eventually leading down to what looks like a lovely green valley many miles away. I've never made it that far. Maybe someday I will. But for now, I think I'll just lie here and enjoy the solitude of the rocks.
Last updated: February 28, 2015