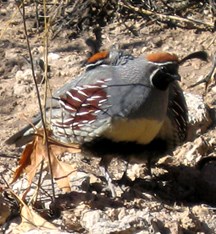 Over 200 species of birds inhabit the riparian (areas located near water) and upland habitats at Montezuma Castle National Monument. Although the number of species observed each month is highest during the breeding season, partly due to a large number of migrating birds, species richness is high during non-breeding seasons as well.
The Sonoran Desert Network (SODN) has put together a new bird checklist! Click here to download it for your trip!
SODN has also put together a Top Ten list for the birds of Montezuma Castle and Montezuma Well. The rankings below are based on visits during the months of May and June. Read below, and see how many you can see the next time you're at one of the sites!