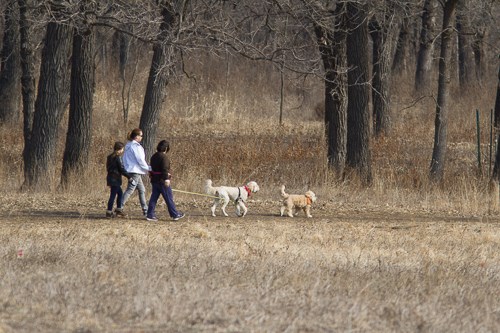 General Rules Concerning Pets
Pets are permitted at Coldwater Spring provided they are on a leash no longer than 6 feet (2 meters). Other partner parks and areas within our borders may have additional restrictions. Please pick up after your pets; keep our parks clean for other visitors. Also remember that not all people like dogs and off-leash dogs--even friendly dogs--may alarm other visitors, as well as having detrimental effects on wildlife.
Dog Parks
There are a number of dog parks within the Mississippi National River and Recreation Area where your pet may run loose. Below are a few sites that offer pet-friendly facilities. Make sure to familiarize yourself with each park's pet policies.
Battle Creek Regional Park
Winthrop St., St Paul, MN 55119
Kaposia Landing
800 Bryant Ave., South Saint Paul MN 55075
Minnehaha Regional Park
4801 South Minnehaha Park Dr., Minneapolis MN 55417
Riverside Park
2820 8th St. S, Minneapolis MN 55406