Peninsula Point Two Rivers Historical Park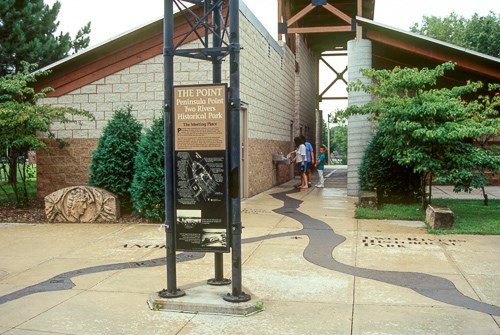 Introduction
Peninsula Point Park is a historical site located at the junction of the Rum and Mississippi Rivers in Anoka, MN. Some of the park features include a playground, fishing access, and a concession stand with water and electricity.
History
Peninsula Point was once a sewage treatment plant. In 1995, with a grant from the Legislative Commission on Minnesota Resources, the city of Anoka began to administer the area and turned it into the beautiful Peninsula Point Two Rivers Historical Park. Eight historical markers can be seen at this park, as well as the State Champion "Green Ash" Heritage Tree (shown at right). Educational signs along the footpath explain both the environmental interpretation and the historical importance of the park.
Activities
Picnic areas are available at Peninsula Point Park with both open and sheltered picnic tables and cooking grills. There is a playground available for children, and seating is provided near the play area for parents. Other activities include biking and hiking.
Hours, Directions, and Contact Information
This park is not available for public use from mid-October to mid-April. Please call for more information.

1460 Ferry Road, Anoka, MN 55303

GPS: 45.191226, -93.391314

Contact the City of Anoka at (763) 576-2980.

Nearby Sites
Akin Riverside Park
, Mississippi River Community Park
Last updated: February 28, 2020