Akin Riverside Park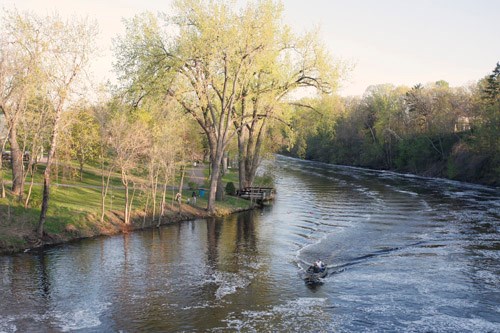 Introduction
The 6.5 acre Akin Riverside Park lies on the east bank of the Rum River just north of the Rum's confluence with the Mississippi River. Akin is a suburban park with the usual city park amenities of playground and picnic areas. The Anoka Historic Rum River Regional Trail runs through the park and a footbridge crosses the Rum River. The park also has two fishing platforms, a boat launch, playground, and picnic tables/shelters and grills.
An interpretive exhibit at a storm water retention pond describes how the pond processes storm water preserving the quality of water flowing into the Rum River and eventually into the Mississippi River.
History
The Red River Trail passed just north of this location and was the major transportation route between Saint Paul and the Selkirk Settlements around Lake Winnipeg from 1835 to 1871. The oxcart trains, sometimes up to two miles long, crossed the Rum River at a shallow ford in what was to become the city of Anoka. Southward bound carts carried goods, such as furs. Northbound carts conveyed goods necessary for life in the north as well as trade goods. The trail fell into disuse with the advent of the railroad and the later highway system. It's influence, however, can still be seen as both railroads and roads (such as Highway 10) roughly follow the historic trail. The Red River Trail helped make Saint Paul into a dominant center of transportation in the upper Midwest. Read more about the Red River Trails and the colorful characters that made their impact on both national and Minnesota history in the documentation that lists the Red River Trails on the National Register of Historic Places.
Today's visitors to Akin Riverside Park can view the historic 1914 Windego Park Auditorium from the footbridge. The outdoor auditorium was one of the last structures inspired by the "City Beautiful Movement" spurred on by the Columbian Exposition of 1893. For many years it was a focal center of civic pride and engagement in Anoka. Learn more about this historic structure and the role it played in community development by reading its nomination for the National Register of Historic Places.
The park also has numerous award-winning interpretive panels that describes the area's local history and development.
Activities
Fishing and picnicking are popular in this park as is walking and biking alongside the Mississippi and Rum Rivers. Some anglers will wade the Rum River below the dam and flyfish for smallmouth bass. Groups wanting park reservations can call the Anoka Parks and Recreation at 763-576-2980.
Hours, Directions, and Contact Information
6 a.m. through 11 p.m., unless posted otherwise.
1721 River Ave, Anoka, MN 55303
GPS: 45.195534, -93.391826
Contact the City of Anoka Parks & Recreation at (763) 576-2980 for more information about this park, facilities reservations, and other evnts.
Nearby Sites
Peninsula Point Two Rivers Historic Park, Mississippi River Community Park, Doni Galloway Riverside Park
Last updated: February 28, 2020