Islands of Peace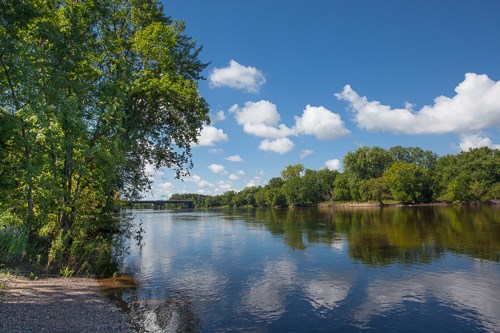 Introduction
"Where Peace Is A Way of Life Every Hour of Every Day for All Those Willing to Share the Experience" -- Edward T. Wilmes, founder, 1971.
The park's three islands spotlight a mature forest of maple-basswood trees. The wide walking bridge leads from the shoreline to Chase Island but the other two islands -- Durnham and Gil Hodges -- are accessible only by water. Durnham Island, which is the largest of the three islands is straight west of Chase Island and can be seen across the channel. The third island, Gil Hodges, is the farthest upstream island.
Today, Islands of Peace is part of the Anoka County Riverfront Regional Park, which is just south of I-694 and offers another 78 1/2 acres.
Activities
There are two miles of paved trails for hiking and biking. Benches, tables, and a picnic shelter are available. A hard-surfaced trail loops down the shoreline from the parking lot to blacktopped trails on the island.
Hours, Directions, and Contact Information
Islands of Peace is located north of I-694 off East River Road (exit No. 36) in the city of Fridley. Turn west on Charles Street NE. Park entrance is 1/2 mile from main road, behind several apartment complexes.

200 Charles St NE, Minneapolis, MN 55432

GPS: 45.076051, -93.275400

See Anoka Parks and Recreation website for more information.
Nearby Sites
Last updated: February 28, 2020