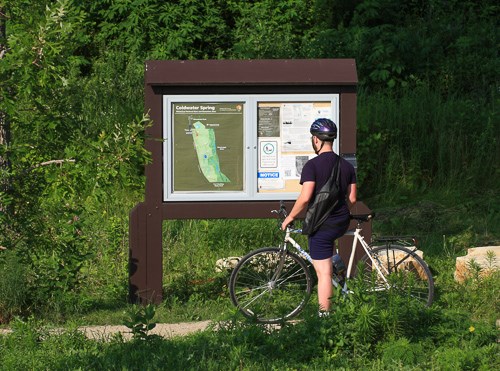 A Unique National Park
Our park is a "partnership park," which means that the land within our borders is mostly owned by others such as city, county, and state governments. We do not charge admission to our park and so do not have entrance gates as one might expect at large national parks. There are, however, admission and parking fees to some locations within our park charged by our partners.
Access to the river is from a network of roads that parallel and cross the river and from the many parks that line the river's banks. The Mississippi National River and Recreation Area visitor center is located in the lobby of the Science Museum of Minnesota (map) and is a great place to start your visit. Check out our Places to Go page for directions to parks, museums, and historical sites within the park. Check the Things to Do page for activities and our Calendar for programming led by NPS park rangers or partners.
Getting Here
By Air
The Minneapolis/St. Paul International Airport is the major airport in this part of the country and is served by a number of major airlines.
By Car
Interstates 35 and 94 meet in the Twin Cities metropolitan area. Locally, county and state highways as well as city streets all offer access to the river, visitor centers, and parks. If traveling using an alternative fuel vehicle use the Alternative Fueling Station Locator from the Department of Energy (search on zip code 55101) to find fueling stations.
By Train
Amtrak runs one westbound and one eastbound train each day out of the recently-restored Union Depot in downtown Saint Paul. Union Depot is just a few blocks west of our visitor center. Learn more about Amtrak's Empire Builder and the Union Depot at their respective websites.
Getting Around Once You Arrive
Public Transportation
MetroTransit provides mass transit services throughout the metropolitan area. Bus service is especially convenient to locations and activities near the downtown areas of Minneapolis and St. Paul. MetroTransit also operates light rail service near the Mississippi River. To plan your trip, check out our interactive Mississippi River Trip Planner.
Hiking and Biking
There are numerous trails along the Mississippi River that provide connections to places of interest, many of which are easily explored on foot or by bicycle. If you don't own a bicycle, you can rent a bike from Nice Ride Minnesota whose bike rental locations are found around the Twin Cities. Learn more through our Bike Share program. Use the Mississippi River Companion as a guide for getting started on hiking or biking the many miles of trails within the bike-friendly cities of Minneapolis and St. Paul.