Anoka County Riverfront Park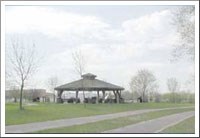 Introduction
The Anoka County Riverfront Regional Park is a linear park along the east shore of the Mississippi River. It stretches from 39th Ave. NE past the I-694 bridge. The Riedel Farm Estate is part of the Riverfront park and can be rented for special occasions.
Activities
An excellent bicycle/walking trail connects this park to additional trails north of the park, and south to the Grand Rounds Scenic Byway trails. Two bridges in the area span the river allowing for a pleasant loop along the Mississippi River. It is a critical link to the North Mississippi River Regional Corridor Trail system.
At the northernmost point of the park is a boat launch ramp. And at the other end of the park is the almost hidden "Arboretum Trail." This 1/3 mile long trail takes you through a bucolic prairie grassland that winds in and around a variety of Minnesota trees, each marked with a sign. Birch, pine, spruce, oak, maple, ash, and linden are examples of trees that hikers can see along the way.
Directions and Contact Information
Address: 5100 East River Road, Fridley, MN 55432
GPS: 45.062226, -93.282142
Website: Riverfront Regional Park
Admission fee
Nearby Sites
Last updated: February 28, 2020