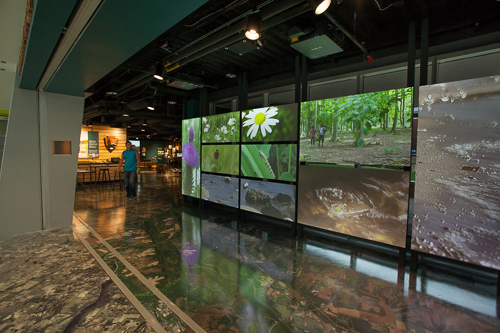 Accessibility at the Park
Because the Mississippi National River and Recreation Area is made up of many local, regional, state, and national entities, it is difficult to describe the accessibility of all facilities and trails, especially those managed by other units of government and private organizations. Museums, such as the Science Museum of Minnesota and the Mill City Museum, are up to modern accessibility standards. Trails that run through parks are sometimes of mixed surfaces, although many are paved.
NPS Facilities
NPS facilities, including rented facilities, within this large park are accessible. This includes a short trail at Coldwater Spring, which is packed hard-surfaced gravel with gentle grades acceptable for wheelchair use. Other trails at this location are informal dirt paths, sometimes with steep slopes, which are rough and muddy after rains. The
Mississippi River Visitor Center
is accessible from the Science Museuem of Minnesota's parking ramp via elevators. The
Upper St. Anthony Falls Visitor Center
is accessible via an elevator. The lock and dam tour, however, is not as there are flights of stairs that cannot be avoided.