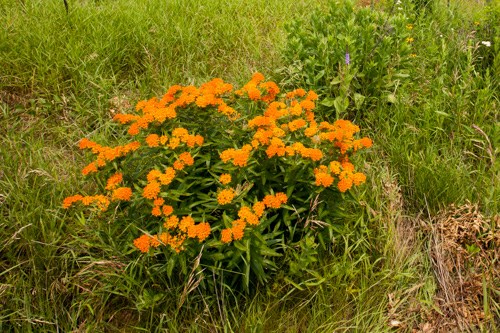 Introduction
This striking plant has brilliant reddish-orange flowers, although sometimes they are yellow or white. It grows to a height of 1 to 2 feet and prefers dry or mesic conditions. Butterfly weed is toxic to most animals, except certain insects that have evolved to benefit from it, which luckily for anyone who has this plant, includes Monarch butterflies. They love this plant and often lay their eggs on it. Many other insects, however, will visit it.
Blooms: June through the end of July or early August.
Find It
Fort Snelling State Park
Coldwater Spring
Cenaiko Lake (East Coon Rapids Dam Regional Park)
Minnehaha Falls Regional Park
Want to Help Us Better Understand the Park?
See our iNaturalist project, "The Life of the Mississippi National River and Recreation Area" and contribute to it by downloading the iNaturalist app and uploading your sightings of this species, and others, to the project. You can also upload your sightings from your computer.