Otter Survey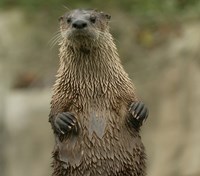 Looking for Signs of Otters
Studying the North American river otter (Lontra canadensis) helps the NPS assess water quality and ecosystem health. If a river or lake has otters, then the ecosystem is healthy enough to support a broad range of plants and animals.
As the top of the food chain (apex predator) of river and lake ecosystems, river otters keep the ecosystem in balance. Otters eat crustaceans, mollusks, and other small animals and plants that might overpopulate the river ecosystem if the otters were removed from the food chain.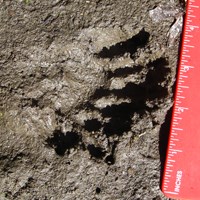 In March 2010, three sites were surveyed, totaling 9.5 km or about six miles of shoreline between Anoka County and the confluence of the Minnesota and Mississippi Rivers. This survey found signs of otters in 11 out of 29 sites.
In January 2011, five sites were surveyed, of which four were positive for otter presence and one was absent of observed otter activity. Both surveys confirmed otter presence within the Mississippi National River and Recreation Area corridor.
Only one survey site was shared between the two survey seasons, with both years of studies representing an array of habitats from the northernmost to the southernmost regions of the Mississippi National River and Recreation Area. These studies along with the pilot study in August, 2009 confirmed the presence of river otter throughout the entire length of the Mississippi National River and Recreation Area corridor.
Sites with little to no activity were usually areas with complete ice cover, or areas with no open water, meaning that otter activity and habitation is likely limited by the availability of open water for feeding.
Last updated: September 24, 2018