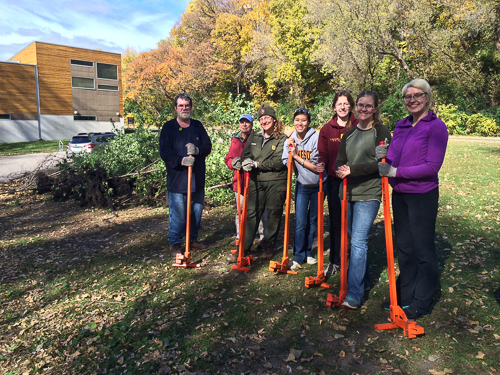 Introduction
Volunteers at the Mississippi National River and Recreation Area work alongside park rangers on a wide variety of events and projects. Volunteers provide valuable assistance in restoring native landscapes, providing new experiences and learning opportunities for school groups, assisting at events, and providing visitors with information about how to experience the Mississippi River.
Whether you are interested in volunteering for a one-time event or on a regular basis, we have a volunteer opportunity for you! Individuals can volunteer for a scheduled event or with an existing park program or we will work with groups (work, church, scout, etc.) to set-up and schedule a custom volunteer experience.
The volunteer program is jointly managed by the Mississippi National River and Recreation Area and the park's non-profit charitable partner, the Mississippi Park Connection. Volunteer opportunities are advertised in a monthly e-mail newsletter. To sign-up for the newsletter, contact the Volunteers in the Park coordinator to sign up for the newsletter.
Volunteer Descriptions
Habitat Restoration Volunteers
Habitat restoration volunteers include;Crew Leaders who help rangers lead groups of other volunteers. Habitat restoration is a great activity for a group such as a work, scout or church group. Other volunteers help with habitat restoration by attending a River Action Volunteer Event (RAVE). A RAVE combines an outdoor activity such as canoeing, biking, or snowshoeing with riverside habitat restoration. Habitat restoration events take place along the river primarily between Coon Rapids dam and St. Paul. The Mississippi Park Connection will help you register or contact the Mississippi Park Connection using use e-mail to set up a group event
Education Program Volunteers
Education program volunteers help youth discover the science, history and fun of the Mississippi River. These events occur throughout the year although the spring and fall are the times of highest need for volunteers. These programs primarily take place on weekdays. Hop on-board a riverboat or canoe to help 4th through 6th graders learn the science and history of the Mississippi River or assist at a mock archaeological dig. Is helping students learn to fish-summer and winter-more appealing? How about helping students learn to navigate using a GPS or compass? Volunteers with a knowledge of birds are needed to share their knowledge with students. Contact the VIP coordinator at 651-293-8424 or use e-mail to volunteer or learn more about volunteering
Public Program Volunteers
Public programs engage visitors to the park at our Mississippi River Visitor Center located at the Science Museum of MN, ride along on the Bike with a Ranger program, help at events, or with the park's Trails and Rails program.
Ready to Volunteer?
Want to learn more? Do you have specific skills you would like to share that are not listed above? Read more about volunteer opportunities or call 651-293-8424.