Volunteer Opportunities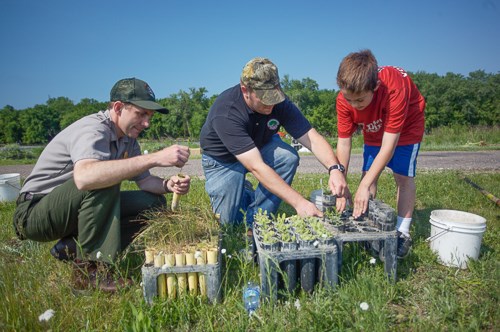 Introduction
Volunteers in Parks (VIPs) are a vibrant part of the community in the Mississippi National River and Recreation Area. Whether you are new to volunteering, new to national parks, or are a seasoned volunteer, there is an opportunity for you to be a steward of the Mississippi River. This page describes several recurring opportunities for which the park seeks volunteer assistance. Please take a moment to read through these descriptions and determine which one(s) might be a good fit for you. Then head to Mississippi Park Connection's calendar to view all current opportunities.
If you have questions about what is expected of VIPs or are looking for advice on how to best contribute your time, passion and enthusiasm, please call the Volunteer Coordinator at 651-293-8458.
Work with Youth: Education Program Volunteers
Education program volunteers help youth discover the science, history and joy of the Mississippi River. Volunteers help youth participate in geo-caching, fire building, fishing, macro-invertebrate sampling, bird watching, shelter building and more. Weekdays in the spring and fall are the times of highest need for education volunteers. All education programs are led by park rangers; these volunteer opportunities would be a good fit for retired teachers; those pursuing careers in education or interpretation; or individuals who would like to inspire another generation of river stewards.
Big River Journey
Volunteers on Big River Journey board river boats and assist park rangers and park partners in teaching 4th-6th grade students about the Mississippi River. Volunteers help students use binoculars, microscopes, and more! No experience is necessary – just a willingness to learn from park rangers. Volunteers with this program are requested to commit to a minimum of two dates. Trips generally take place during the first three weeks in May and the last two weeks of September.
Journey to the Falls
Journey to the Falls students uncover the history of the Mississippi River's Saint Anthony Falls through a mock archaeological dig. Volunteers are needed to help park rangers facilitate this program. This program is a great fit for volunteers who are willing to help rangers set up a historical stage by burying artifacts under the bridge. Once students arrive, volunteers have the opportunity to direct enthusiastic 4th – 6th graders in a small group setting. No experience is necessary; training is provided for all volunteers. This is an excellent opportunity for anyone interested in pursuing careers in education. Trips generally take place the last week of May, first week of June, and the first week of October.
Canoemobile Mississippi River
Volunteer or intern with the Canoemobile Mississippi River (CMR), a partnership among the National Park Service, Wilderness Inquiry, Inc., and Mississippi Park Connection, which takes over 10,000 urban youth on Voyageur canoes trips each summer in the Twin Cities. Students, teachers or any other retired/future educators may qualify as volunteer paddlers and/or interpreters. Training is provided. This program may fulfill community service or practical experience requirements for degree-seeking participants. Interns provide support for the development of the curriculum materials, evaluation methodology, and grant requests related to the CMR. Contact Jim Ford by e-mail with questions regarding internships.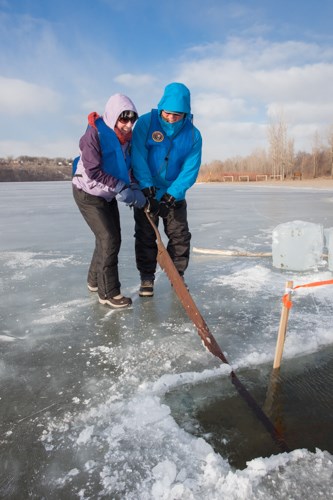 Engage the Community: Public Program Volunteers
Public programs engage park visitors during informal programs and settings. Volunteers help park rangers welcome large audiences to special events, share their knowledge and passion of the river with the public, and help people of all ages and abilities learn new skills.
Special Events
Volunteers assist park rangers at special events. These events are often one-time events which means they are well suited for volunteers looking for a short-term commitment. Past events have included judging a youth art contest, helping with an art exhibit installed at Saint Anthony Falls, ice fishing, and more! Volunteers can sign up for events that best fit their schedule through Mississippi Park Connection's calendar or by contacting miss_volunteer@nps.gov to subscribe to the monthly newsletter.
Bike with a Ranger
Volunteers work with park rangers leading groups of bicyclists along Mississippi River trails. This is an excellent opportunity for individuals who are competent cyclists and are willing to teach and model safe biking practices. Trips are scheduled weeks in advance and occur on Saturdays in July through September. Volunteers are requested to commit to two rides during the season.
Visitor Centers
Volunteers regularly assist staff at park visitor centers. This is an opportunity for individuals who are friendly, reliable, knowledgeable about the National Park Service and the Mississippi National River and Recreation Area, and can commit to a long-term, regular daytime shift weekdays or weekends. If you are interested in volunteering at either the Mississippi River Visitor Center (located in the Science Museum of Minnesota) or Saint Anthony Falls Lock and Dam visitor center, please look for trainings and open shifts in the volunteer newsletter. In the meantime, boost your knowledge of the park as a volunteer in a different program!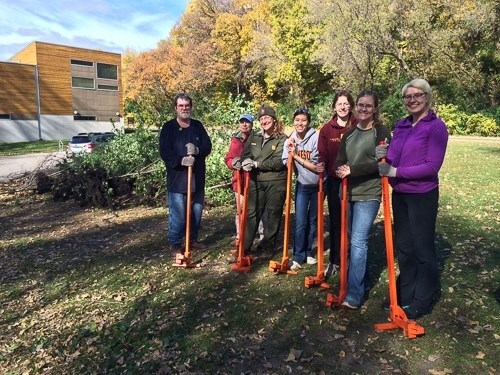 Protect the River: Resource Management Volunteers
Habitat Restoration
Habitat restoration improves water quality in the Mississippi River, provides habitat for wildlife and migrating birds, and enhances the scenic qualities of the parks and trails along the river corridor. A long-term process, park rangers and park partners rely on volunteers to complete habitat restoration projects. Volunteers can help by removing invasive plants, planting native vegetation, or assisting in river corridor clean-ups. Work is completed outdoors. This is an excellent introduction to the Mississippi River and is appropriate for individuals or groups. Large groups (15+) interested in a custom event are encouraged to contact Mississippi Park Connection here.
RAVEs
A River Action Volunteer Event (RAVE) combines an outdoor activity such as canoeing, biking, or snowshoeing with riverside habitat restoration. This is a great way to give back to the river and get a chance to learn a new recreational activity under the guidance of a park ranger. RAVEs will be advertised on the volunteer calendar.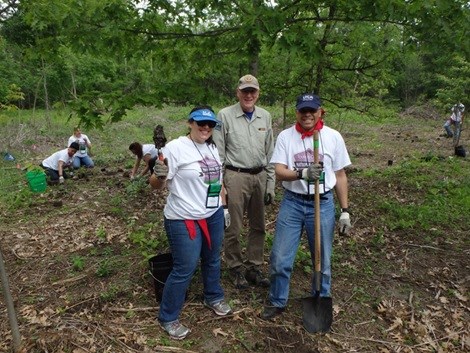 Restoration Crew Leader
Volunteer Crew Leaders assist park rangers at habitat restoration events throughout the growing season. Often dubbed "super volunteers" crew leaders are individuals who become knowledgeable about the park and habitat restoration techniques. They are models for safety and leadership. Crew leaders are essential to many of our larger habitat restoration programs as they lead novice volunteers in many activities. An annual training is provided as orientation in the spring. Crew leaders must commit to an average of one weekend or weekday event per month. If you would like more information about being a crew leader, including the date of the annual training, please email us or call 651-293-8458.
Coldwater Crews and Mill Ruins Crew
Initiated and led by volunteer crew leaders, these groups meet weekly during the warmer seasons to assist MISS's resource management team with long term habitat restoration projects at Coldwater Spring and Mill Ruins Park. Largely informal, volunteers are welcome to come when they can and leave when they need to; tools, safety gear (gloves and glasses) and instruction are provided. No experience necessary. Please email miss_volunteer@nps.gov or call 651-293-8458 for more information.
Tuesday Evening Coldwater Crew meets 5:30pm – 8:00pm, weekly on Tuesdays, March – October.
Thursday Morning Coldwater Crew meets 9:00am – 12:00pm, weekly on Thursdays, March – December.
Saturday Morning Mill Ruins Crew meets 9:00am-12:00pm, monthly on Saturdays, May – October.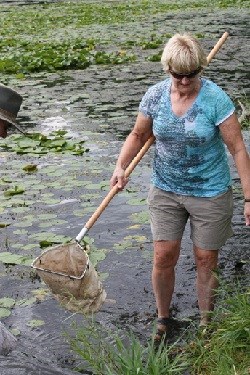 Wildlife
The park has several ongoing research projects monitoring wildlife in the park. Occasionally there are opportunities for volunteers to assist park biotechnicians with data collection. Wildlife volunteers should be comfortable working in a wide range of outdoor conditions and walking on rough terrain. Available opportunities will be posted on the calendar.
Internships, Youth Service Projects, and Special Skills
Sometimes the park is able to accommodate individual youth service projects. These happen when there is a good fit between the needs of the park and the youth's area of interest. Please e-mail us or call 651-293-8458 with questions.
Volunteer positions offered as internships for students are rare. Internship positions are typically arranged between the student and a specific NPS staff person. Please contact the individual staff member to inquire about opportunities.
Special Skills
If you have a special skill not applicable to the regular opportunities listed above, please reach out to the Volunteer Coordinator describing your volunteer interests and special skill. Many park partners also have volunteer programs that benefit the Mississippi River. The Volunteer Coordinator can help you find an opportunity that is the right fit.
Service Projects for Groups
Custom projects can be arranged for your group of 15 or more from April through October. These are likely to be a park habitat restoration project which involves a 2-3 hour time commitment. Activities focus on planting native plants and/or removing invasive plants. Minnesota Academic standards can be addressed as part of School Volunteer/Service programs. Our volunteer programs also meet various merit badge requirements for Girl and Boy Scout groups. To request a group project, please contact Mississippi Park Connection.
Sign up to Volunteer
All current volunteer openings are available on the Mississippi Park Connection website.
Contact Our Volunteer-in-Park Coordinator
Volunteers in Parks Coordinator
111 East Kellogg Boulevard
Suite 105
Saint Paul, Minnesota 55101
(651) 293-8458
E-mail your VIP Coordinator
Last updated: November 22, 2019