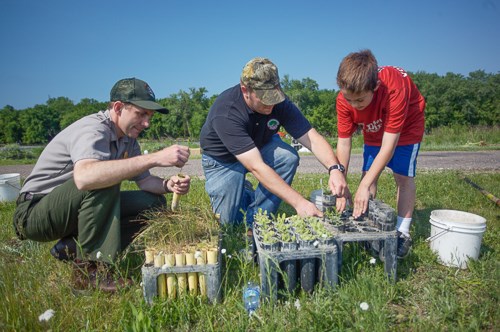 Introduction
Volunteers in Parks (VIPs) are a vibrant part of the community in the Mississippi National River and Recreation Area. Whether you are new to volunteering, new to national parks, or are a seasoned volunteer, there is an opportunity for you to be a steward of the Mississippi River. This page describes several recurring opportunities for which the park seeks volunteer assistance. Please take a moment to read through these descriptions and determine which one(s) might be a good fit for you. Then head to Mississippi Park Connection's calendar to view all current opportunities.
If you have questions about what is expected of VIPs or are looking for advice on how to best contribute your time, passion and enthusiasm, please call the Volunteer Coordinator at 651-293-8458.
Work with Youth: Education Program Volunteers
Education program volunteers help youth discover the science, history and joy of the Mississippi River. Volunteers help youth participate in geo-caching, fire building, fishing, macro-invertebrate sampling, bird watching, shelter building and more. Weekdays in the spring and fall are the times of highest need for education volunteers. All education programs are led by park rangers; these volunteer opportunities would be a good fit for retired teachers; those pursuing careers in education or interpretation; or individuals who would like to inspire another generation of river stewards.
Big River Journey
Volunteers on Big River Journey board river boats and assist park rangers and park partners in teaching 4th-6th grade students about the Mississippi River. Volunteers help students use binoculars, microscopes, and more! No experience is necessary – just a willingness to learn from park rangers. Volunteers with this program are requested to commit to a minimum of two dates. Trips generally take place during the first three weeks in May and the last two weeks of September.
Journey to the Falls
Journey to the Falls students uncover the history of the Mississippi River's Saint Anthony Falls through a mock archaeological dig. Volunteers are needed to help park rangers facilitate this program. This program is a great fit for volunteers who are willing to help rangers set up a historical stage by burying artifacts under the bridge. Once students arrive, volunteers have the opportunity to direct enthusiastic 4th – 6th graders in a small group setting. No experience is necessary; training is provided for all volunteers. This is an excellent opportunity for anyone interested in pursuing careers in education. Trips generally take place the last week of May, first week of June, and the first week of October.
Canoemobile Mississippi River
Volunteer or intern with the Canoemobile Mississippi River (CMR), a partnership among the National Park Service, Wilderness Inquiry, Inc., and Mississippi Park Connection, which takes over 10,000 urban youth on Voyageur canoes trips each summer in the Twin Cities. Students, teachers or any other retired/future educators may qualify as volunteer paddlers and/or interpreters. Training is provided. This program may fulfill community service or practical experience requirements for degree-seeking participants. Interns provide support for the development of the curriculum materials, evaluation methodology, and grant requests related to the CMR. Contact Jim Ford by e-mail with questions regarding internships.