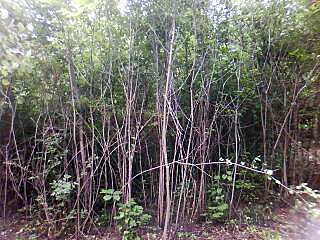 This is an example of buckthorn left to flourish in the field - dominant and oppressive over other organisms.
I think it's safe to say that most of us living in the upper Midwest are aware that Buckthorn is an "undesirable" species (at least that's my neighbor's view, anyway).  But a question on my mind is, how does that word translate into an image of what a stand of buckthorn looks like?  This week we start a small educational project for our YCC Crew to learn ecological methods which help ecologists and resource managers assess various aspects of the landscape.

 The YCCers have had a hard week of cutting and hauling buckthorn so I think a little education in basic ecology is just what they need to see how their work is only the first step in ecological restoration.  We will look at the number of different species and how they are distributed within a sample of a buckthorn grove. After we collect and analyze our data, we will compare it to the same type of data that has been published for oak savannas and hardwood forests.  Our hypothesis is simple - that the number of species will be low with mostly one dominant species - buckthorn, when compared to restored savannas and forests. 
 This will not be a super-accurate, conclusive experiment per se, just something to help our YCCers understand that there's more to ecology than cutting, hauling, and sweating.  We have seen this past week just how thick buckthorn groves an be and this exercise will hopefully give both our YCCers, and you another way of seeing the problem organisms face when aggressive invasives are allowed to compete with natives… or at least I hope our data will support that claim (cue the egg on face).    It should be fun and insightful so stay tuned - they results should be posted in a week or so!