I would like to take this time to thank all of the YCC member and Greg Anderson, our Bio-Tech TRT, for all of their hard work and dedication.  We couldn't have done it without YOU!  You ROCK!!!
 A little reflection time:
We cut, pulled, whipped, sprayed and hauled invasive species, in one of the hottest summers we've had in a LONG time and you all SURVIVED! We discovered a short cut to a special waterfall, we helped create our own waterfall.  We collected ACORNS and wildflower seeds, and then some more ACORNS. We worked alongside volunteers, from all different ages and walks of life. We experienced a successful wildflower planting from 3 years ago and tried to spread those seeds for future generations: one step closer to our "Vision for the FUTURE" Invasive Free and Wild at HEART.
 THANK YOU!!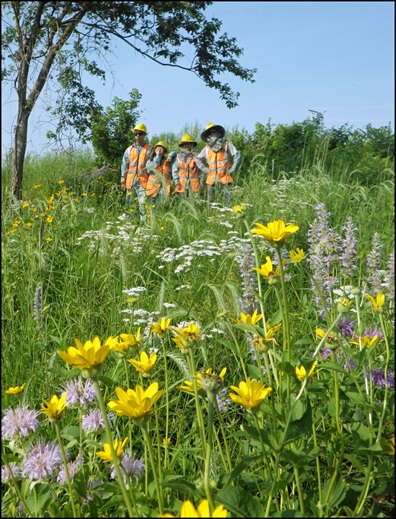 This photo depicts our Vision for the future of Coldwater. I hope you, the public, can come out and enjoy the transformation this site has gone through, and will continue to. It was all for you, our PUBLIC.
 List of plants in photo:
Blacked Eyed Susan's (Rudbeckia hirta)

Fragrant Hyssops (Agastache foeniculum)

Oxeye Sunflower (Heliopsis helianthoides

Bergamot ( Monarda fistulosa)

Yarrow (

Achillea millefolium)

Virginia Wild Rye (Elymus virginicus)
Species that came up later in theSummerin this same spot:
Big bluestem

 

(Andropogon gerardii)

Little bluestem

(Schizachyrium scoparium)

Bottlebrush Grass

(Hystrix patula)

Sideoats grama

(Bouteloua curtipendula)

Indiangrass

(Sorghastrum nutans)