The Delta-01 Launch Control Facility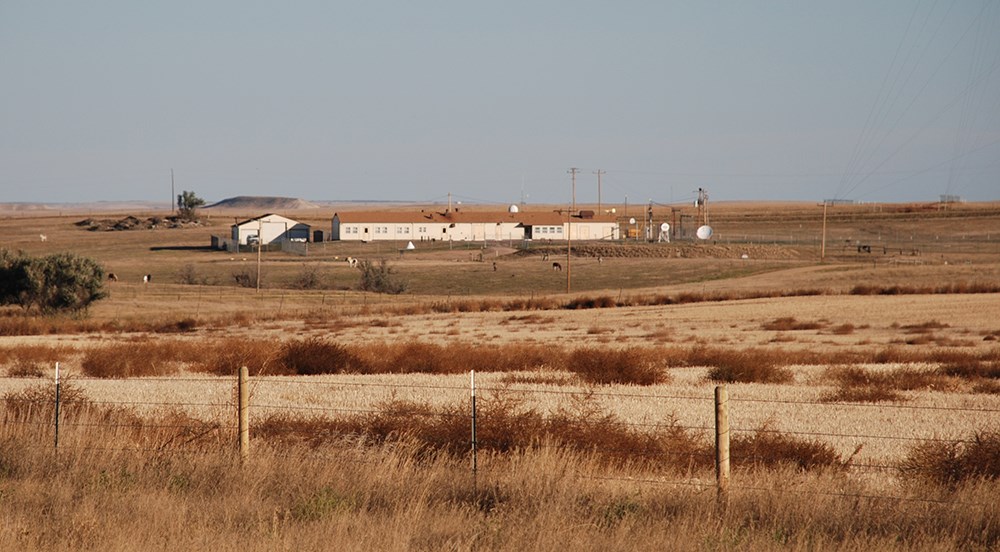 This compound includes the topside support building and the associated underground Launch Control Center located 31 feet below the plains of western South Dakota. The topside supported the missileers stationed underground in carrying out their mission. Equipment such as a backup generator for auxiliary power, and environmental control provided backup support in the event of a power outage or an attack. There were always eight people on the topside, all enlisted Air Force personnel who were stationed at Ellsworth Air Force Base, 60 miles to the west. These personnel included a Facility Manager (top ranking non-commissioned officer on-site), a cook and six security police. They worked three straight days on, followed by three days off. In addition, the site had bunk housing for visitors, such as maintenance teams who were required to remain over night at the nearest Launch Control Facility (LCF) if they exceeded 16 hours in a work shift. They would spend the night at the nearest LCF before driving back to Ellsworth Air Force Base the following day. The building also contained a Security Control Center, where all security activities were coordinated and personnel would be processed when coming on site. Other areas on the topside included a day room, dining area and recreational room that Air Force support personnel used while at the facility.
Walk To The Gate
All visitors to Delta-01 can walk up to the large entrance gate and look through the fence into the compound. An exhibit panel provides context to the site. A cell-phone guided tour leads visitors to the front gate and provides information about the site and how it operated.
Entry through the Gate Requires a Reserved Ranger-Guided Tour
PLEASE NOTE: ALL Delta-01 Tours are currently closed due to rennovation work being done at the site. At this time, we do not have a firm reopening date. Please continue to check back to see what dates the tours will begin again.
Built for nuclear war, the control center features a small elevator and a tight underground space. To protect the historic facilities and to provide for visitor safety, each tour is limited to six participants and a park ranger. This tour begins and ends at the entry gate to the Delta-01 compound. All tours of the Delta-01 Launch Control Facility require advanced reservations and an amenity fee. Reservations can be made on-line or by phone at 605-717-7629. Reservations can be made up to 90 days prior to tour date. SAME DAY tour reservations are not available in the summer season. More information on tours and tour reservations....
Learn More
Delta-01 Tour Tickets
Due to the continuing renovation work at Delta-01, and out of a desire to enhance the visitors' experience, Minuteman Missile NHS will be resuming the Delta-01 Tours in a MODIFIED format. This modified tour will cover some of the exterior grounds, the elevator room, and then the underground launch control center. It does not take visitors through the above ground portions of the building as this area is still undergoing renovations. First day of tours will be June 1, 2022. Tours will be run Wednesday through Sunday at 9:00 am, 10:00 am, 1:00 pm, and 2:00 pm.

All tours of the Delta-01 Launch Control Facility require advanced reservations. Reservations can be made on-line or by phone at 605-717-7629.
Reserve Your Tour Now
Last updated: April 30, 2022