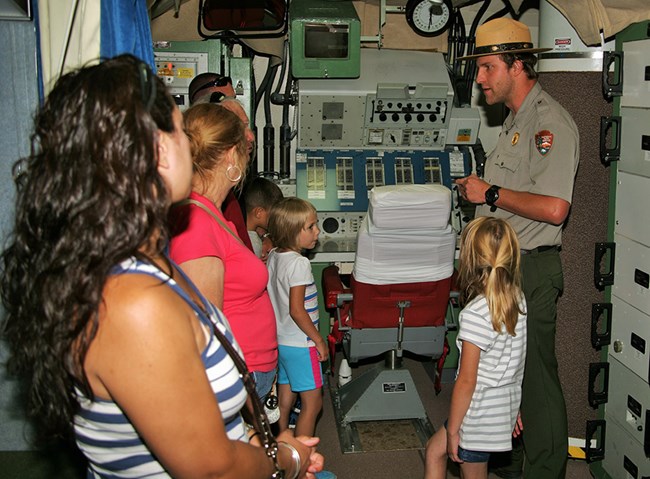 Learn what it was like to have the awesome responsibility of thermonuclear war at your fingertips. The ranger-guided tour of Delta-01 begins with a walk through of the grounds and topside support building. Visitors then descend via elevator 31 feet underground to the Launch Control Center to see the electronic consoles used by missileers to control ten Minuteman II missiles.

Built for nuclear war, the control center features a small elevator and a tight underground space. To protect the historic facilities and to provide for visitor safety, each tour is limited to six participants and a park ranger. This tour lasts forty-five minutes and ends at the entry gate to the Delta-01 compound. All tour participants must be able to be physically capable of climbing two 15 foot ladders unassisted in the event of an elevator failure.
Delta-01 Tour Fee
All tours of the Delta-01 Launch Control Facility require advanced reservations and an amenity fee. Reservations can be made on-line or by phone at 866-601-5129. Reservations can be made up to 90 days prior to tour date.
Delta-01 Tour Fee (Prices effective January 1, 2019)
$12.00 - Adult age 17 & over

$8.00 - Youth ages 6-16

All youth must be accompanied by an adult.