Park Film - "Beneath The Plains"
Completed in 2018, the thirty-minute park film, "
Beneath The Plains: The Minuteman Missile On Alert
" provides a visitors with an introduction to the history of Minuteman Missile defense system and it's continued role as a nuclear deterrent. The film includes original and archival footage, recordings, interviews, animation, and images.
If you don't have time to watch all 30 minutes, you can just want to watch the
trailer
, or a few
short clips
from the film that focus on certain topics.
Visit our keyboard shortcuts docs for details
Duration:

30 minutes, 24 seconds
Our park film explores the history of the Minuteman Missiles that stood on alert beneath America's Great Plains. What role did they play during the Cold War, and how do they continue to protect us today?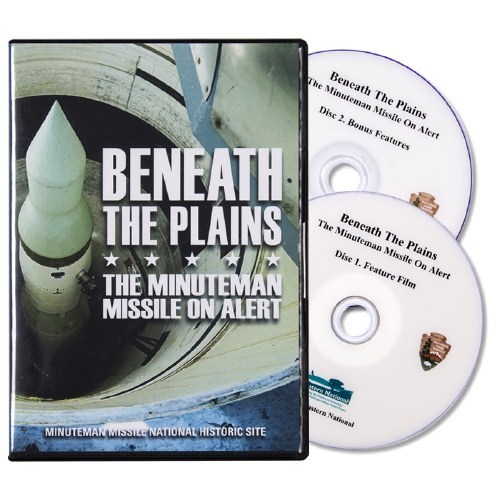 "Beneath The Plains: The Minuteman Missile On Alert" is available for purchase as a two-disc DVD set through the park's bookstore. The film explores the Cold War story of the park with high-definition cinematography, vintage film and TV footage, a haunting original music score, and an immersive 5.1 surround-sound mix. This two-disc set also includes more than 75 minutes of bonus features:
Meet the Missileers, a glimpse into the day-to-day lives of the men and women stationed in launch control centers and missile silos across the Midwest who waited patiently for orders that, thankfully, never came.
The Big Buildup, a chronicle of key moments in the arms race between the US and the USSR—from Hiroshima to the Cuban Missile Crisis and beyond.
Duck and Cover, a sampling of classic US and Sovietcivil defense films featuring advice on what to do in the event of a nuclear attack.
Extended interviews with former missileers and historians
Last updated: February 22, 2022