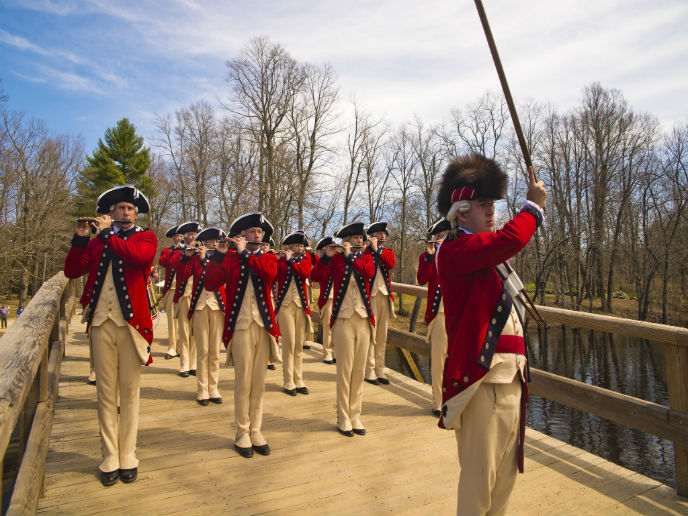 News Release Date:
April 6, 2015
Contact: Phil Lupsiewicz, 978-318-7833
 Concord, MA – Minute Man National Historical Park and Concord Celebrations Committee are proud to host  the United States Army 3rd Infantry "Old Guard" to the annual Patriot's Day Celebration on Sunday, April 19th , 2015.  The 3rd U.S. Infantry, known as The Old Guard, is the oldest active-duty infantry regiment in the U.S. Army, serving our nation since 1784. "America's Army" will tell a story about America's history, beginning with the Revolutionary War era to the present day, with military music and a proud narrative inspired by the patriotism that fueled the heroic acts celebrated during Patriots Day.
The Old Guard will conduct performances and ceremonies in the Boston area from April 18 through April 20 to pay respect to veterans of all American conflicts. The performances on April 19 will start with The Old Guard Fife and Drum Corps playing the "Dawn Salute" at 6:00 a.m. on the North Bridge, Concord and will perform performances of "American's Army" at 7:30 and 10:00 a.m.
For more information about Patriot's Weekend and Minute Man National Historical Park, please visit www.nps.gov/mima.
About the National Park Service. More than 20,000 National Park Service employees care for America's 407 national parks and work with communities across the nation to help preserve local history and create close-to-home recreational opportunities. Learn more at www.nps.gov. 
-end-