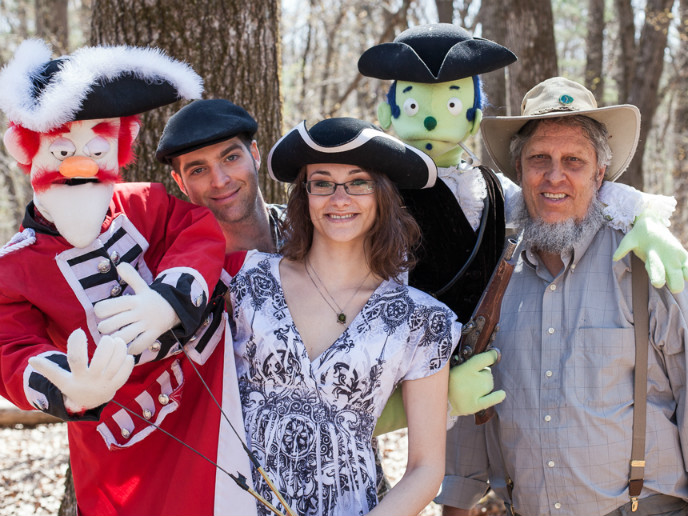 News Release Date:
April 8, 2015
Contact: Phil Lupsiewicz, 978-318-7833
Concord, Massachusetts, Minute Man National Historical Park will debut the new film, The Midnight Ride of Me and Paul Revere throughout the day on Saturday, April 18, 2015 in the Blue theater at Minute Man Visitor Center. The show will be part of Patriot's Weekend and Junior Ranger Day activities, as well as a feature for National Park Week, April 18th to the 26th at the park. 
A production of Vaudeville Pictures, the film's creators Bob Lawson, a Concord resident, videographer and history buff, and Peter A. Cancilla, of Boston-based Vaudeville Pictures, began the project on Patriots Day 2013, and filmed in many of the actual locations portrayed in the tale. "The initial idea was to base much of the film on Longfellow's poem, Paul Revere's Ride", says Lawson. "But then I came upon Steve Martin's song, Me and Paul Revere which tells the story from the viewpoint of the horse. I matched up Longfellow with Brown Beauty, and it was off to the races! Peter's puppet magic and lots of fun music make this a really special short film."
On Monday, April 20th at 12:00pm noon, you can meet the filmmakers and learn about the art of puppetry, filmmaking and what it was like to create a project with live action, puppets and music.
Admission to the Minute Man Visitor Center and the movie are free and will be shown continuously  throughout the week.   
For more information about Minute Man National Historical Park visit https://www.nps.gov/mima or call 781-674-1920. The Minute Man Visitor Center, 250 Great Road, Lincoln, Massachusetts 
-end-