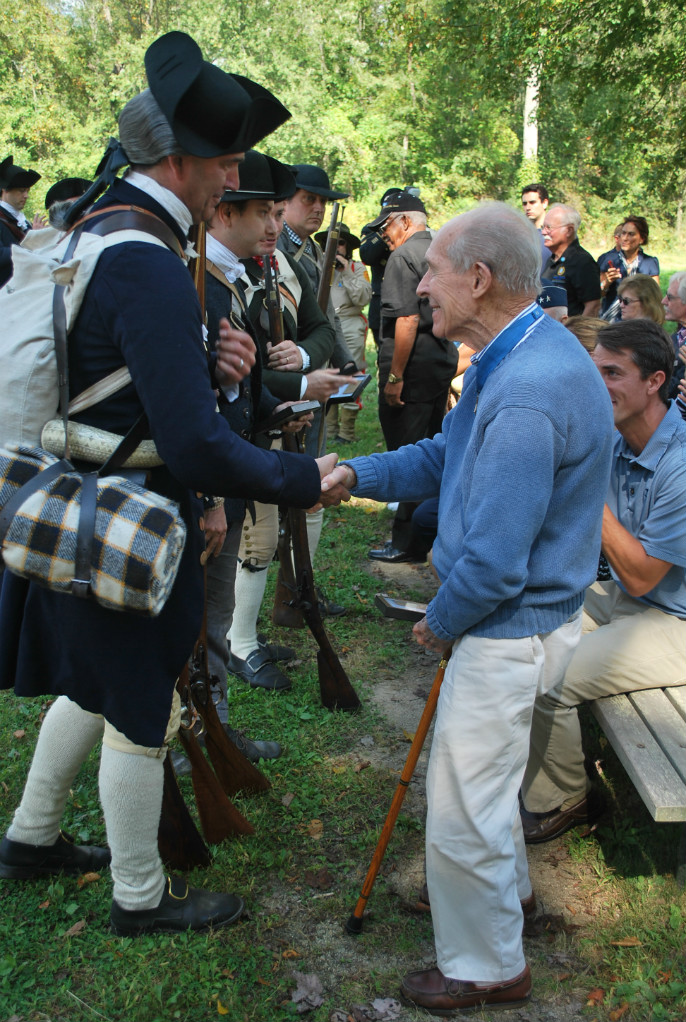 News Release Date:
September 23, 2015
Contact: James Hollister, 978-318-7829
The annual Congressional Medal of Honor Society Convention was held in Boston this year during the week of September 14th. On Saturday, September 19th six Medal of Honor recipients and their families visited Concord's North Bridge, part of Minute Man National Historical Park, which is the site where the American Revolution began on April 19, 1775. General Scott Rice, Adjutant General of Massachusetts, was also in attendance representing the office of Governor Charles Baker.   
These American heroes were received with due honors by park staff and more than 40 volunteers from local living history and ceremonial organizations, including the Concord Independent Battery, Captain David Brown's Company, HMs 10th Regiment of Foot, Lexington Minute Men, Acton Minute Men, Concord Minute Men and Lincoln Minute Men.   
The day's program began with an 11 gun salute from the battery and the reenactors. Following the salute Park Ranger Jim Hollister addressed the group about the events of April 19, 1775 and their importance in helping to create a sense of American identity and unity. This was followed by a presentation by historian Bill Rose and members of Captain David Brown's Company, a recreated minute company whose impression is based on extensive research.
Among the Medal of Honor recipients who attended the day's program was Concord resident Captain Thomas Hudner. On Dec. 4, 1950, Hudner intentionally crashed his plane in North Korean territory attempting to save his wingman, Jesse Brown, the first African-American aviator in the U.S. Navy, who was shot down over the Chosin Reservoir. "I'm very proud to live in Concord," Hudner said. "We're lucky to have the country that we have."