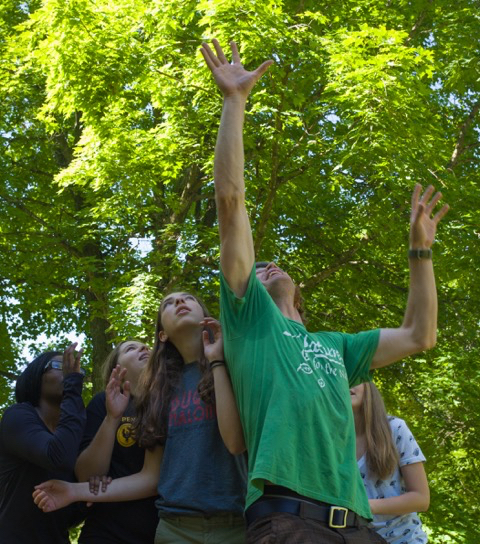 News Release Date:
September 19, 2017
Contact: Kellen Allen, 978-318-7826
Contact: Phil Lupsiewicz, 978-318-7833
CONCORD – 
Families, connect with nature at the North Bridge in creative and inspired new ways with the cast of 
Nature
!
 (a play being held at the Old Manse). Through walks, theatrical play, and reflective journaling, share in the experience of rediscovering our connection to the beautiful world around us. Each workshop attendee will receive a 
Nature
 field journal to take home. Afterward, visit The Wayside; Home of Authors, fee free, or take a ranger led walk along Battle Road.  
Families will have the chance to play with a variety of creative exercises that activate a comfortable state of expression, and focus on opening and listening to our surroundings.  We will then connect with nature through walking, wandering, and tuning into our senses.  Finally, we will express, create, and perform our inspirations and discoveries via theatrical forms such as movement, sound, rhythm, text, and image.   
Please wear comfortable clothing and footwear.  Come prepared and dress for the weather (i.e. sunglasses, hats, sunscreen, warm clothing, water, rain gear, etc.).
Limited to 30 participants. To register, call Park Ranger Kellen Allen 978-318-7826.  
Recommended ages: For families with children 6 and older
Schedule and Location: Saturday, September 30, 10-11:30 a.m. at North Bridge  
Admission: FREE!  
The Wayside: Home of Authors
, (455 Lexington Road, Concord MA.) is where 19th-century authors kept the spirit of the Revolution alive by contributing to the creation of an American literary identity and playing an active role in the antislavery movement and the struggle for women's rights.  Saturday, September 30
th
 will be a 
fee free
 day.
Battle Road Trail Walk.
 Join a Park Ranger for a 3 1/2 hour guided walk along the historic Battle Road Trail. Learn about the events of April 19, 1775, landscape changes through time, and the American Revolution from the perspective of those who took part. Meet at the Minute Man Visitor Center at 12:30 p.m., and we will shuttle to Meriam`s Corner to begin the tour. Bring plenty of water!   
Please note: Pets are welcome on the tour but NOT on the shuttle. Anyone wishing to bring a pet must provide their own shuttle/transportation. 
Also note: Seating on the shuttles is limited to 60 people - first come, first served. Shuttle vouchers are available at Minute Man Visitor Center from 11:30 until gone, no later than 12:30.
To learn more about this and other park offerings of Minute Man National Historical Park including our Junior Ranger program, The Wayside, ranger-led tours, and upcoming special events stop by the Minute Man Visitor Center at, or contact Minute Man National Historical Park at (978) 369-6993, or visit 
www.nps.gov/mima
.
-NPS-