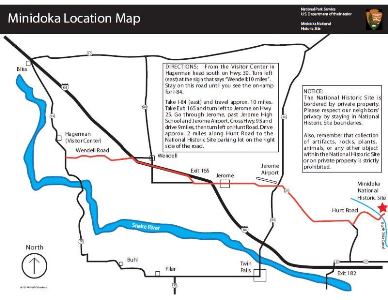 Directions to Minidoka National Historic Site:
Minidoka Historic Site is located between the towns of Twin Falls and Jerome, Idaho in south central Idaho. There are no facilities or services at the site and the boundaries are not well marked. Many buildings and features that were part of the center are located on private property surrounding the Historic Site.
Please do not enter any private property.
To get to the Historic Site from the intersection of Interstate 84 (I-84) and U.S. Highway 93 (US 93):
Travel north on US 93 for 5 miles to the Eden exit/turnoff.
Travel east on Highway 25 for 9.5 miles to the Hunt Rd. exit.
Travel east on Hunt Rd. for 2.2 miles to the small parking area on your right.
Collection of artifacts, rocks, plants, animals, or any other object within the National Historic Site is strictly prohibited. Help preserve your park by taking only memories and photographs. Report violations to the National Park Service at (208) 933 -4105.