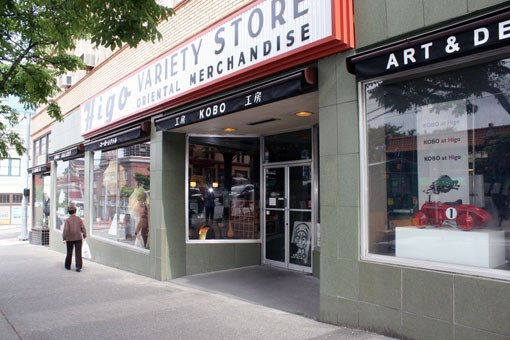 "Meet me at Higo" was a common refrain for Japanese living in Nihonmachi or Japantown in Seattle from 1907-2003. The Higo was a "5 &10" store that was the center of the community. Owned and operated by the Murakami family from 1909 to 2003, you could purchase pots and pans, kitchenware and other household goods, Japanese and western fabrics, and dried foods imported from Japan.
The "Meet Me at Higo: An Enduring Story of a Japanese American Family" exhibit debuted at the Wing Luke Museum of the Asian Pacific American Experience in Seattle on December 2, 2011. The exhibit was a collaborative effort by many community members to research the history of the Murakami family and the Higo Store. The traveling version of this exhibit opened in March at the Hagerman Fossil Beds National Monument Visitor Center in Hagerman, Idaho and will run through June 24.
After Executive Order 9066 was signed by President Roosevelt in February 1942, the family was forced to leave their home and business and was incarcerated at Minidoka War Relocation Center in remote Idaho. They returned to reopen their business and rebuild their lives at the end of the war.
The exhibit traces the arrival of Sanzo and Matsuyo Murakami from Japan through the birth of their children and the development of their business, the Higo Variety Store (originally named Higo 10 Cents Store) in Nihonmachi. Sanzo and Matsuyo, along with their children, Aya, Kay, and Masa, were five of the nearly 120,000 Japanese voices that reflect the Japanese American incarceration story. It is through this family's experiences that we can begin to understand what actually happened to a family that could have been our neighbors, relatives, or friends.
The exhibit includes artifacts from the store, the 1936 diary of daughter Chiyoko, letters between daughter, Aya, and her father,Sanzo, who was separated from the family by the FBI, and text panels that trace the family and the store's history.
The Higo reopened as the "KOBO at Higo" gallery in 2004. Much of the old store merchandise and historic memorabilia are on display today at the store on 6th Avenue South and South Jackson Street in Seattle. If you travel to Seattle, plan on visiting the Wing Luke Museum and the Higo Store just down the block. You will be transported back in time.