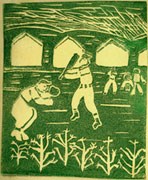 "Baseball Saved Us"
Baseball played a key role in sustaining the 13,000 Japanese Nikkei (Americans citizens and legal resident aliens) who were incarcerated at Minidoka War Relocation Center from 1942-1945. Many of the camp residents –youth, adults, male and female - played baseball or softball on one of the many fields throughout the camp. The September 11, 1943 issue of the camp newspaper, Minidoka Irrigator, highlighted the importance of baseball to the camp:
Yup! Old man baseball reigns supreme among our dads and have helped make life in this camp more pleasant for him. Without the game, he'd be lost and idleness would reign supreme instead of baseball. They also did a swell job in providing some exciting games for …men.'
In reading articles from the camp newspaper, it is clear that baseball served as a glue to bring people together and provided bridges to communities outside the barbed-wire fence. After the war, many former incarcerees have continued to exclaim, "Baseball saved us!"