Baseball at Minidoka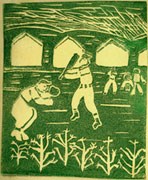 "Baseball Saved Us"
Baseball played a key role in sustaining the 13,000 Japanese Nikkei (Americans citizens and legal resident aliens) who were incarcerated at Minidoka War Relocation Center from 1942-1945. Many of the camp residents –youth, adults, male and female - played baseball or softball on one of the many fields throughout the camp. The September 11, 1943 issue of the camp newspaper, Minidoka Irrigator, highlighted the importance of baseball to the camp:
Yup! Old man baseball reigns supreme among our dads and have helped make life in this camp more pleasant for him. Without the game, he'd be lost and idleness would reign supreme instead of baseball. They also did a swell job in providing some exciting games for …men.'
In reading articles from the camp newspaper, it is clear that baseball served as a glue to bring people together and provided bridges to communities outside the barbed-wire fence. After the war, many former incarcerees have continued to exclaim, "Baseball saved us!"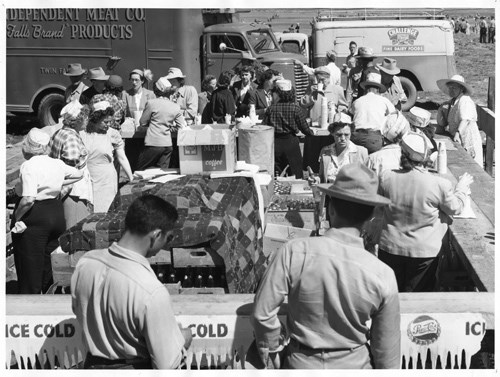 Farm-In-A-Day
The Minidoka baseball field project became even more exciting when it was decided that the park would collaborate with others to build a field in one day. This idea is based on the 1952 Farm-In-A-Day event held on the John Herrmann property. John Herrmann, a World War II and Korean War veteran, received one of the over 180 land lots that had been distributed by the Bureau of Reclamation after the 33,000 acre Hunt Camp had been subdivided.

The North Side Soil Conservation District approached him to allow his land to be a demonstration farm showcasing the newest farm equipment and conservation practices. On April 17, 1952, 1500 volunteers built a two bedroom house, constructed animal corrals and plowed fields on land that had once been Minidoka War Relocation Center.
The Farm-In-A-Day event received much publicity including full-page ads in the North Side News inviting everyone to attend. Over 11,000 spectators showed up to watch the day's events. A printed program outlined events from opening ceremonies at 8:35, rose plantings and plowing in the morning, and trenching for pipelines and home building in the afternoon. John, his wife Elfreida, and their daughter entered their new home at 6:45 pm.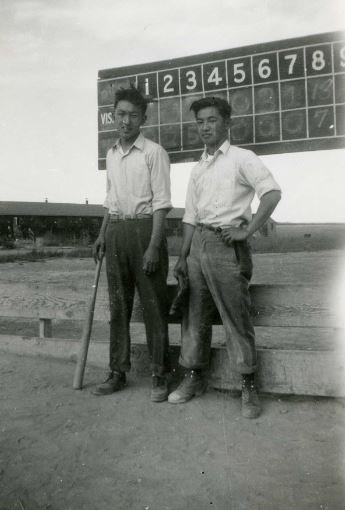 Field in a Day
In keeping with the spirit of the 1952 Farm-In-A-Day event, Minidoka NHS and Friends of Minidoka (FOM) planned a Field-In-A-Day event on May 28, 2016. On that day individuals and groups joined FOM and park staff in rebuilding one of the 14 baseball/softball fields that were interspersed among the 44 residential blocks.

Surrounding communities and interested groups supported the project. Baseball field prep took place in the days preceding the Saturday event. The day's events included building and installing the field structures: backstop, two scoreboards, two player benches and two bleachers; applying all field markings; installing bases; installing a wayside interpretive panel and donor plaque; and creating accessibility paths to the field.

The baseball field is located in an area that was also used for special events: high school graduations, memorial services for fallen soldiers, and plays and musical events. As part of the continuation of the project a replica of the stage where these special events were held will be built.

The public was invited to watch and, if interested, to help. Formal dedication of the field was held on Sunday, June 26 during the annual Minidoka Pilgrimage.
Donations to the Field-In-A-Day Project were used to build the baseball field and its supporting structures: scoreboard, backstop, player benches, wayside exhibit panels, and the donor plaque. Donations were also used to support both the Field-In-A-Day event and the dedication. Monies collected beyond the actual reconstruction of the field will be used to build the amphitheater and maintain the field in the future. The field is open to visitors, school groups, and special events.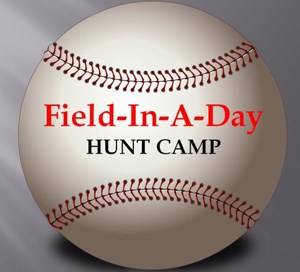 How Can You Help?
Friends of Minidoka and Minidoka NHS are excited about this project and will collaborate with all who want to help the Field-In-A-Day. We have been asked, "How can I help?" Because this is a frequent question, we are providing the following information.
*You can donate financially to the project in two ways:
·Discover Your Northwest website –www.discovernw.org
- Click "Donate"
– Click "Support One of Our Featured Programs"
– Click "Minidoka Center Field Project"
·Friends of Minidoka –http://www.minidoka.org
- Click "Donate"
– there will be an email follow-up so you can designate your donation to the "Center Field" project

·Mail donations to Friends of Minidoka , PO Box 1085, Twin Falls, ID 83303
·Share camp stories
·Record and post online
·Share stories and images with park staff
·Help research baseball at Minidoka and in the Japanese community before WW II
·Donate materials or labor for scoreboard, backstop, benches
·Donate used baseballs, bats, gloves, etc.
·Donate period piece baseball equipment for educational programs.
For further Information contact:
If you would like to donate in any way (in-kind services, materials, money, information) please contact one of the following individuals. We hope that you will continue to support us in this Field-In-A-Day event.
·Janet Keegan, Friends of Minidoka (FOM) · Email Friends of Minidoka
·Keith Yamaguchi · Email Friends of Minidoka
Last updated: June 18, 2017