Directions
Getting There
Park Address
1013 Old Post Rd. Kinderhook, NY 12106
Plane
The Albany International Airport is located approximately 35 miles from the park.
It is served by several major airlines.

Car
From Albany, Montreal and other points north and west: Take Interstate 90 to US Route 9 south at Exit 12; from Boston and points east travel on Interstate 90 to US Route 9 south at Exit B1. After exiting Interstate 90, follow US Route 9 south 4.5 miles to the traffic circle. Enter the traffic circle and exit it onto NY Route 9H. Continue on NY Route 9H another 4.5 miles south to the park entrance on the right. Look for the large brown and white park sign. Note: the site is on NY Route 9H, not US Route 9.
From New York City, Hyde Park, and points south: Take US Route 9 north to Kinderhook. At the stoplight in the Village Kinderhook, turn right onto Hudson Street. Proceed approximately one mile over the Kinderhook Creek and make your first left following the signs for NY Route 9H. Turn right onto NY Route 9H south.
The park is approximately 1.5 miles south on the right.


GPS Coordinates
42° 22' 52'' N
-73° 42' 13'' W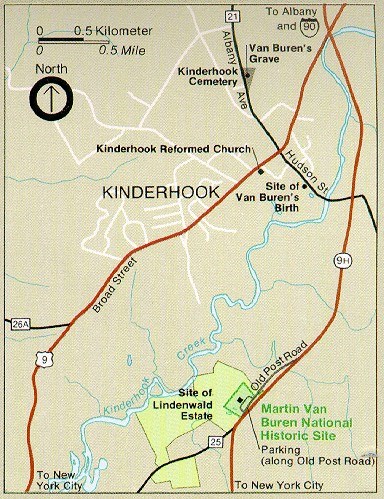 Last updated: August 28, 2022