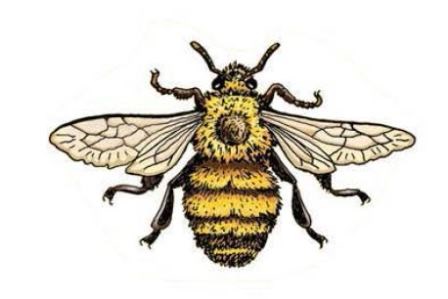 A drawing and field experience program June 25 at Lindenwald.

Join illustrator Emily Brooks and naturalist Conrad Vispo at Martin Van Buren National Historic Site in Kinderhook on Saturday afternoon June 25, to learn about native bee species and techniques for illustrating them and their habitats. This dynamic two-part program takes place from 2:00 to 4:30 and is limited to twenty participants. Reservations are required and may be made on line at http://mvbee.eventbrite.com.
The first part of the program focuses on non-honey-producing bees, their behavior, territory and their essential role in agriculture. Along with Conrad Vispo's introduction to the world of bees past and present, Emily Brooks will introduce and demonstrate the best media and techniques for illustrating these fascinating insects. Participants will be able to study mounted specimens for a rare up close look at these amazing insects.
The second part of the program takes participants to explore President Van Buren's farm, currently cultivated by one of the nation's largest community supported agricultural operations, Roxbury Farm. During the farm exploration, illustrator and naturalist will guide participants in creating their very own plein air illustration. The program is open to all levels of artists and drawing paper and supplies will provided.
Conrad Vispo's research has taken him to a variety places including the north woods of Wisconsin and tropical Venezuela. He currently teaches in the Cornell University Department of Horticulture. An expert on the natural world in Columbia County, he is locally known for his association with the Farmscape Ecology Program, the research and outreach branch of Hawthorne Valley Association located in Ghent. His current research focus is on the relationship between farmland and native species.
Emily Brooks grew up in the village of Kinderhook and graduated from the Rochester Institute of Technology with BFA in Illustration in 2014. Her intricate and surreal work, with its emphasis on organic form and natural settings, appeals to people of all ages. With her collaborator Matt Holbein she recently published the The Bee Book, a folding interactive book for children.
Remember, reservations are required for this unique educational participatory program. Don't "bee" left out;space is limited. For reservations and additional information go to http://mvbee.eventbrite.com.