William Van Ness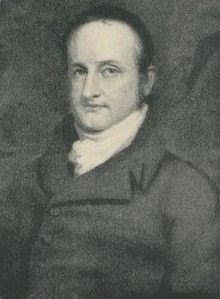 William Peter Van Ness, son to Peter and Elbertie Van Ness, was born February 13, 1778 in Ghent, New York. Little is known about his early childhood, but he attended Washington Seminary, the same school as Martin Van Buren. He then graduated from Columbia College, now Columbia University, in 1797. In 1800, at age 22, he read law with Edward Livingston and then began running his own private practice. Through the years he had practices in Albany, Hudson, and New York City. In 1800 he married Anne McEvers in Red Hook, New York. In 1801 he served as delegate to the New York Constitutional Convention, which was called to amend the 1777 state constitution.

Van Ness was a close friend to Aaron Burr, the Vice President to President Thomas Jefferson. On July 11, 1804 Van Ness served as Burr's second in the famed duel between he and Alexander Hamilton. During the duel, Van Ness loaded Burr's pistol and was present for the fatal shooting of Hamilton. Fearing persecution for his involvement in the duel, Van Ness returned to Kinderhook and sought informal counsel of his friend, Martin Van Buren. Van Buren had previously finished his legal studies with Van Ness at his New York City office in 1802.

Not long after the duel, his father, Peter Van Ness passed away on December 21, 1804 and his property, called Kleinrood, was divided among his three sons. William received the newest structure, a brick home constructed in 1797, and 137 acres in land. From 1804-1810 William took particular interest in the property, planting a garden and raising livestock. However, his political fortunes began to rise, and he soon relocated back to New York City. In May 1812 he was nominated to the United States District Court for the District of New York by President James Madison. Then in 1814 he was reassigned to the United States District Court for the Southern District of New York. Van Ness would maintain this position until his death on September 6, 1826 at age 48. He is buried in Green-Wood Cemetery in Brooklyn, New York alongside his wife.

Prior to his death, Van Ness in 1824 had sold the Kleinrood estate as a repayment for a debt. The house then sat vacant until President Martin Van Buren purchased the property in 1839 and changed its name to Lindenwald.

William and Anne had five children, Edward Van Ness (1801-1879), Harriet Mary Van Ness (1803-1825), Eugene Van Ness (1804-1862), Matilda Eliza Van Ness (1806-1869) and Charles William Van Ness (1807-1883). The household also included at least four enslaved individuals, whose identities are unknown, according to the 1810 United States Census.
Last updated: November 18, 2020