Life at Lindenwald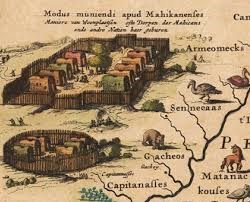 When Dutch traders and settlers began to arrive in the Hudson River Valley in the early seventeenth century, they encountered people who had been living - and farming – in the region for many centuries. The area that later became Columbia County was part of the territorial homelands of the Muhheconneok[1] people, an Algonquian speaking group that combined hunting and gathering with cultivation of crops. There were an estimated two to three thousand people before the contact period, a number that was already dropping by the time of Henry Hudson's 1609 voyage due to the effects of new diseases that arrived with Europeans.

The Dutch began acquiring land from Natives by 1630. Muhheconneok exchanged their land; or rather, permission to use their land, for various European goods, including wool cloth, alcohol, brass or copper kettles, guns, clothing, shells and other kinds of currency, tools and utensils, tobacco, and other trade items. The Dutch tried to identify "sachems"[2] and political leaders with whom they could do business, failing to understand the shifting character of the kinship-based political structures within which the Muhheconneok made collective decisions. From the Muhheconneok perspective, the Dutch were only to have "rented" for one year the right to grow crops, rather than "owning" the land itself. The European "all or nothing" system of ownership could not coexist with Native modes of settlement, and the two systems quickly came into conflict. When the Dutch colonists did manage to coexist peacefully with the native tribes, they actually learned from each other. The Muhheconneoks had been farming the land for centuries, and as the Dutch began to farm, the Muhheconneoks were the ones who taught them the practice of "crop rotation;" moving your annual crop to a different place each year. Now that the Dutch were introducing horses, cows, sheep, and pigs to North America, they taught the Muhheconneoks their method of fertilization.

[1] The historic name of the "Mahican" people.
[2] The Algonquin term for a "chief."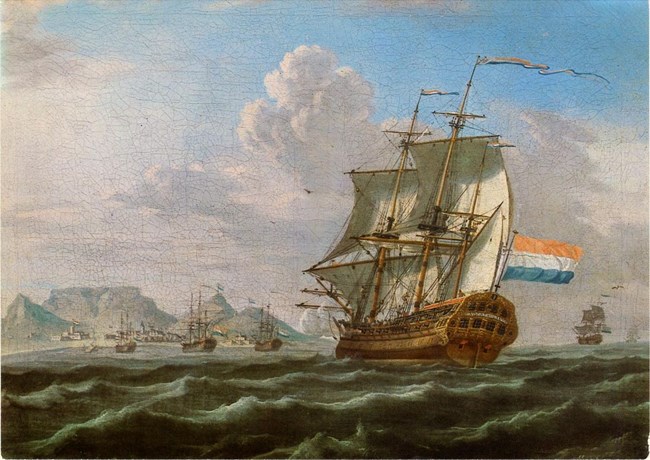 Dutch colonists first established a presence in the Hudson Valley in the early seventeenth century. By mid-century, a varied population of settlers had come to the area under the auspices of the Dutch West India Company who had created the New Netherland colony. By the 1650s a family had purchased a piece of land in "Beverwyck" (modern Albany.) In 1671, they acquired a tract on the west side of the Kinderhook Creek, vaguely designated as "behind Kinderhook." In the same period, two brothers from the Van Alen family, Pieter and Lourens, acquired land on the other side of the creek and established a farm. Sometime before 1674, Pieter Van Alen sold some of his land to Lambert Van Alstyne. Lambert established a farm there – the first European farmstead on the property that would later become Lindenwald. The Van Alstynes, Van Alens, and other Dutch settlers formed a close-knit core in the town of Kinderhook for well over two centuries, and many of their descendants remain in the area today.
Peter Van Ness, a Senator, Justice of the Peace, and Chief Judge of the Court of Common Pleas, acquired 260 acres from William and Lambert Van Alstyne sometime before 1787. This property included a stone house down on the flats, farmland along Kinderhook Creek, and some land on the eastern side of the Post Road. (The "Post Road" started as a local road between the Van Alstyne house and the Kinderhook Creek. It was moved to the upper terrace where it became part of a major New York-to-Albany road. The local portion was then moved again to the western side of the creek. This being a "new" road, the upper terrace road became referred to as the "Old Post Road" as it is known today.) Van Ness moved into the stone house and named the Van Alstyne property "Kleinrood" (Little Red.) Around 1797, he built a new brick house on the upper terrace facing the "Old Post Road." His household included his wife, three sons, two daughters, and ten enslaved Africans.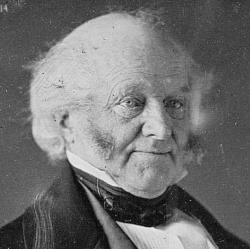 Judge Van Ness died in 1804 leaving his estate divided between his three sons, John inheriting the stone house and William inheriting the new house and two large lots to the west. William was a lawyer, whose career suffered due to his involvement with the Alexander Hamilton / Aaron Burr duel after which he retired to Kleinrood. By 1810, he had moved his family to New York City and in 1824 sold the Kleinrood house to William Paulding, Jr. It is doubtful that Paulding ever lived there, and for most of the time he owned the house, he leased it to local farmers. By the time Martin Van Buren bought the house in 1839, the farm was in very poor condition. Van Buren hired John Harder to live at the property and oversee farming there. He then re-christened the farm "Lindenwald."
When Martin Van Buren was defeated in his bid for reelection to the presidency, he came home to Kinderhook and, like Washington and Jefferson before him, devoted himself to farming. At Lindenwald, Van Buren was at once an elder statesman, leading a genteel life on his country estate, and a farmer, engaged in agrarian pursuits side by side with his "common" peers in rural Kinderhook. He was glad to be home, and the farm had been kept in good condition by Harder. Within four years, he brought the size of the farm to two hundred and twenty acres. He improved the grounds, planted extensive orchards and cultivated a large garden with a greenhouse, grapes and other fruit. He constructed barns, sheds and other buildings behind the mansion. While he had some livestock: sheep, fowl, milk cows, hogs and horses, he focused largely on crop production, primarily grains (hay, oats, rye) and potatoes. Fifteen acres was devoted to a woodlot for fuel and building. His day began with a ride (on his horse Duroc) of up to 15 miles around the estate and into town. After breakfast, he worked the fields before retiring to the library to read and write letters. Every Sunday he was in the Dutch Reformed Church family pew.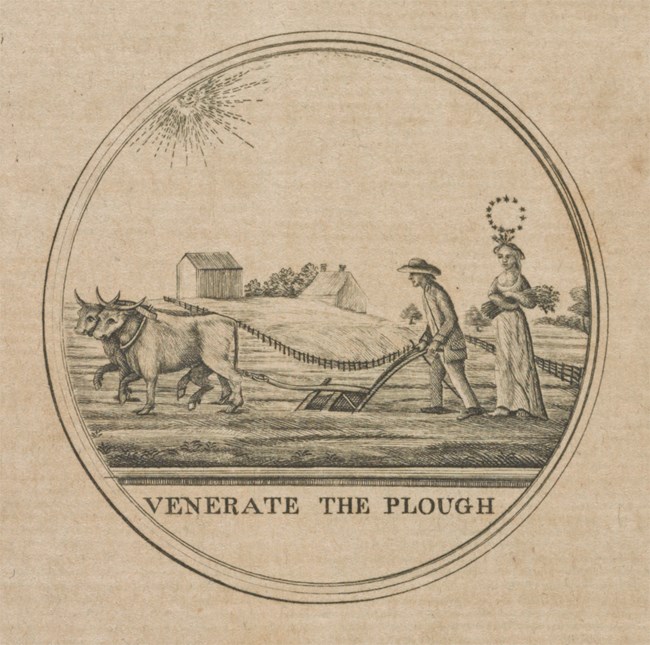 He was a very serious farmer who saw his farm as an expression of his political and personal values. He shared the Jeffersonian and Jacksonian belief in farmers as the backbone of American democracy and economic health. Being engaged in common agrarian pursuits had positive connotations in Van Buren's day. Agriculture was mythologized as a noble, patriotic occupation. Agricultural reformers extolled the virtues of farming, not only as "the principal source of our wealth" but more importantly as "the parent of physical and moral health to the state" and a means to "perpetuate the republican habits and good order of society." Farmers relied on their own hard work for success and were free of the taint of corruption.
Although Van Buren relied almost entirely on hired labor or tenent farmers for the actual work of cultivation, there is no doubt that he was thoroughly engaged in his farming venture and quite successful at it, providing much of the food for his own household and producing surpluses and commercial crops that eventually made the farm at least somewhat profitable. It was a pleasant, comfortable life and with personal property and real estate worth as much as $200,000, Van Buren could well afford to live the life of a country gentleman.
He clearly did not, however, embrace commercial farming to the extent that other comparable farmers in the area did, and it seems possible as has been conjectured, "for all its owner's obsession with profitability, Lindenwald was more an aging gentleman's fancy than a viable business enterprise." The Lindenwald estate did not necessarily reflect a "working-class" lifestyle. Van Buren, despite the ongoing depression, was well off financially. He owned a good many books, and spent $50 - $75 a year to acquire others. In the evening, he entertained so often that it seemed to Silas Wright always to be "open house." Van Buren loved rich food and drink and spent more on butter than on taxes and church. An Englishwoman who visited Van Buren at Lindenwald in 1846 claimed that the estate was fit for British gentry. She wrote, "the comforts and elegancies of his residence exactly resemble those we find in the country house of an English gentleman of fortune who lives upon his estate."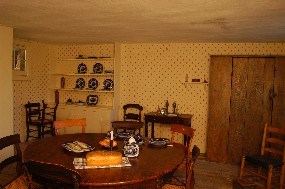 Van Buren maintained a household staff of six who received wages plus room and board. It was comprised of wives and daughters of farmhands, some seasonal help, and Irish immigrant women. His chef, Felix, was paid $12.00 per month as was the coachman. The butler and the valet, who both doubled as waiters, each received $8.00 per month. Two household maids received $6.00 per month. He allocated a sum of $200.00 over a six month period for farm and garden help wages, and an annual outlay for household servants of $640.00 per year.
Almost as soon as he arrived home from Washington, visitors started to arrive, some for a day and others for a week or two. His guests included: Thomas H. Benton, Francis Blair, The Earl of Carlisle, Henry Clay, Washington Irving, Winfield Scott, Charles Sumner, David Wilmot, and Silas Wright. The Main Hall at Lindenwald is perhaps the most important room in the house. It is commonly believed that Van Buren used it as a large dining space. Some considered it "the center of what was essentially a 'government in exile.'" Ways of serving formal dinners went in and out of fashion. Van Buren is documented as having owned green glass fingerbowls, which had become fashionable during his presidency. As a dinner guest, Thomas Hart Benton was once confronted with the unfamiliar bowls. He remarked: "I am rather chary of new customs, but after noticing Mr. Van Buren dip the tips of his fingers in the bowl and wipe them daintily on his napkin, I just raked back my cuffs and took a good plain republican bath."
Van Buren's four sons had worked for the president in Washington, DC. Now back in Kinderhook, they were happy to be living with him, or at least nearby. Oldest son Abraham and his wife Angelica had their first son and were living in a cottage in Stuyvesant. In June of 1841, John married Elizabeth Vanderpoel, and in 1842 Smith had married Ellen James. The three had presented the president with his first three grandchildren, while Martin Junior would become a permanent resident at Lindenwald suffering from consumption.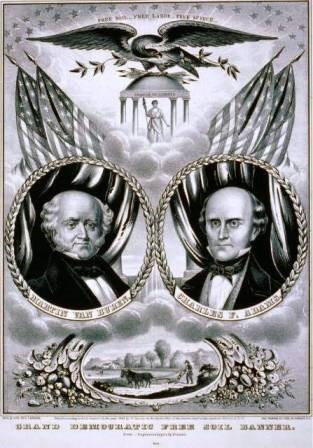 With a growing farm and family, letters began to arrive urging the former president to look to the future. Democrats writing from Maine, Pennsylvania, Ohio and Indiana were telling Van Buren that the "sober second thought" of the people was beginning to turn in his direction. Thomas Hart Benton predicted that Missouri would nominate him. His short time in Kinderhook had not been a retirement, but a time of rejuvenation. In 1842, Van Buren began planning a campaign trip right at home in Lindenwald. He would unsuccessfully seek the presidency in 1844.
After the loss of the nomination of the Democratic Party, Van Buren wrote that his second retirement had reduced neither the "happiness nor the cheerfulness at Lindenwald." Once again seeking a "life of quiet contentment" he sank himself into the responsibilities of the farm, occasionally going fishing with family or colleagues. His four sons were still a part of his life, and he remained always aware of state affairs. As John Van Buren was finding his own place in New York government and national politics, Van Buren began to realize that he missed the challenge of being in national leadership. It was John's involvement in the beginning of the anti-slavery movement that would bring Martin Van Buren onto the political stage once more. In an effort to affect the state of slavery in the growing United States, Van Buren lent his name to the Free-Soil party to once again be a candidate for president. His election to office was not to be, but the influence of the party began the painful process of bringing the needed changes to a country that could not find a peaceful resolution to its divisiveness.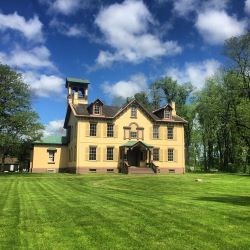 A career in politics finished and with a family growing larger, Martin Van Buren finished his life in the place he loved the most. On July 24, 1862, the President, Kinderhook's favorite son, passed away in his home in the town that had always been his home.
After John Van Buren sold Lindenwald, 110 years passed before the National Park Service acquired the estate to preserve the memory of President Martin Van Buren and the "Antebellum" period of our history. People of many backgrounds, some of them farmers, some of other backgrounds would call Lindenwald home. Since 1974, the National Park Service has taken people back to that time of family joy amongst national division and strife. Hopefully, we have learned the lessons of the past and continue to learn from the President who lived in the little Dutch village in the Hudson River Valley.
Last updated: September 26, 2021