John Van Buren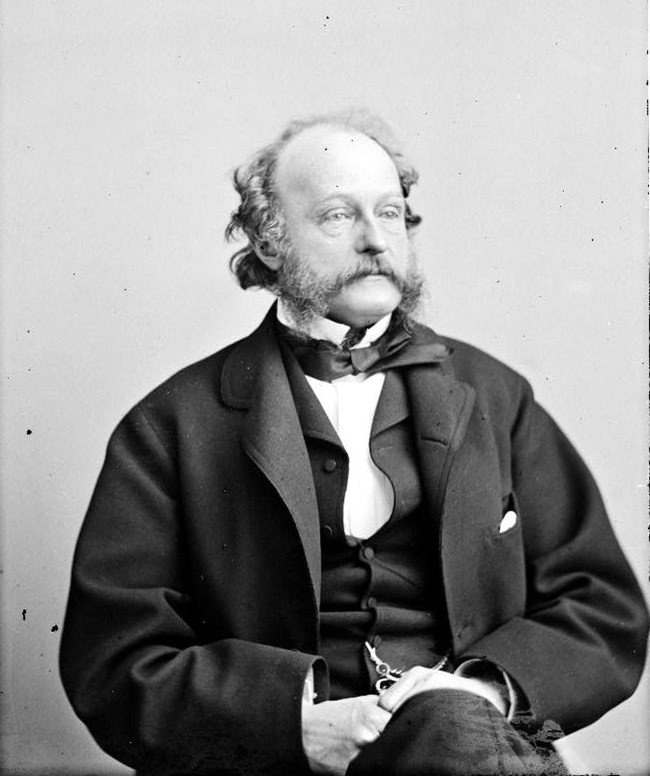 On February 18, 1810, Martin and Hannah had their second son, John, while they were living in Hudson, New York. Much is unknown about his childhood, but a major part of his youth is that, unlike his father, he did attend college. John attended Yale College in New Haven, CT, from which he graduated in 1828. He quickly found his way into the legal profession, and he passed the bar in 1830. He eventually opened a law practice in Albany and was quite successful.
At the beginning of his father's presidency, John traveled on his own to England, where he earned a nickname that he would carry for the rest of his life. He had seats at Queen Victoria's coronation, where he met many of the social elite and royalty of Europe. In the most famous episode of his visit, he got to dance with the new queen. When news of this made it back to the United States, newspapers christened him "Prince John". Although many friends and supporters of him would refer to him this way for the rest of his life, the name may have originally been meant as an insult. The United States was going through a depression during his father's presidency, and the War of 1812 was not far from the minds of many Americans. Combined, these two elements certainly may have been used by his opponents to cast a negative light on John.
In June of 1841, John would marry his childhood sweetheart, Elizabeth Vanderpoel. Before Elizabeth died in 1844, they had one daughter, Anna. John never remarried.
In 1845, a few years after his father's presidency, John was elected Attorney General for New York State. He served as lead prosecutor in several publicly famous cases at the time, such as the Anti-Rent War, in which John and the opposing counsel famously got into a fist fight in open court. The most famous case John prosecuted was the murder trial of William Freeman. Freeman was the son of an African American man and a Native American woman who was falsely imprisoned for five years for horse theft. Freeman was repeatedly beaten in prison and emerged from his time in prison with what has been retroactively diagnosed as severe trauma. He went on to kill a family of four white farmers, seemingly at random, and was caught and brought to trial. William Freeman's defense lawyer, William Seward, made the first attempted use of the insanity defense in U.S. history. John, who was tasked with prosecuting Freeman, made two major arguments. First that the law depended on people being punished for their crimes, and second that Freeman was the result of the mixing of two inferior races, so his crimes should not come as a surprise. These claims did not fall on deaf ears, and Freeman was convicted. Eventually, the Supreme Court declared a mistrial, but Freeman died of tuberculosis in prison before he could be granted a new trial.
John had always moved in the Democratic Party political circles of New York. But in 1848, the New York Democratic Party split, with John emerging as the leader of its radical "Barnburner" faction. This faction eventually merged into what became known as the Free Soil Party. The Free Soilers were a broad political coalition dedicated to banning slavery from the western territories. Some, like John, were politically motivated; they wanted no more slave states in order to curb southern power. Others were radical abolitionists who hated slavery. John convinced his father to run as the candidate of this new party, which he did in the 1848 presidential election. They carried no states but reintroduced anti-slavery discourse into national politics in a way that hadn't been seen in decades.
Although John remained involved in politics, his career never progressed much further. He ran again for Attorney General in 1865 but was defeated. After his defeat, he traveled to Europe with his daughter, where they toured extensively. On the return journey, he died on October 13, 1866, of illness while at sea, and was eventually buried in Albany Rural Cemetery. He was 56.
Anna Van Buren (1842-1923) was his only child with his wife Elizabeth.
Last updated: September 17, 2022