Science & Research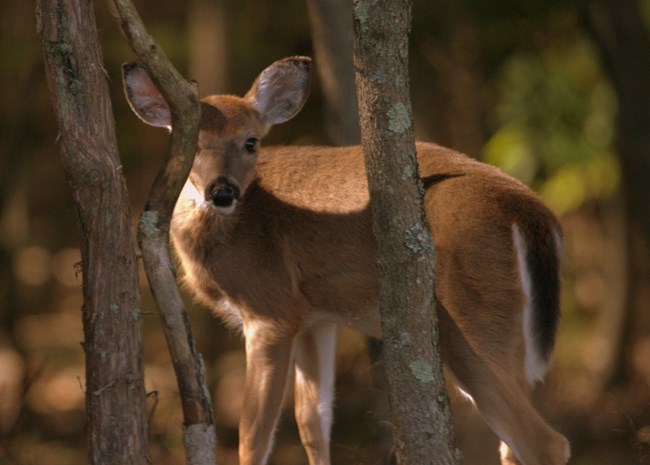 Manassas National Battlefield Park offers an ideal natural laboratory in which to study a wide variety of research topics. Important science issues at the park include, but are not limited to, air pollution, water quality, habitat fragmentation, invasive exotic species, rare species conservation and restoration of disturbed natural and cultural landscapes. Mantissas National Battlefield Park
is characterized by gently rolling hills with a patchwork of open fields and forests. The Park's landscape is representative of the Culpeper basin and is one of the region's most unspoiled areas.
Manassas National Battlefield employs a number of scientists and researchers whose work helps us understand this special part of the world. Dig into:
Managers are working with the Inventory & Monitoring Program to track long term trends in the park's natural resources. Scientists are monitoring a suite of ecological indicators which will tell them about ecosystem health and changes.
This online tool presents the results of long-term monitoring of forest vegetation in NCRN parks. It displays NCRN forest data from 2005 through the present in map, graph, or tabular format.
This visualizer presents the results of long-term monitoring of streams in NCRN parks. It displays in graph format NCRN water monitoring data from 2005 through 2014. New data will continue to be added as it is collected.
Current/On-Going Projects

Articles and Publications
Information for Researchers
Conducting research or doing a scientific project in the park will require a free permit. To find out more visit the National Park Service Research and Reporting System (RPRS).
Species List
One of the primary goals of the National Capital Region Network (NCRN) is to develop and maintain verified, substantiated, and certified vascular plant and vertebrate species lists for each network park. The information presented in these web-based species lists are subsets of data managed in NPSpecies, which is the master biodiversity database for the National Park Service, and is the tool used by NCRN for meeting this goal.
The species lists presented here have all gone through a certification process. This involves the evaluation and review of the species information by local experts who are well-versed in the biology, taxonomy, and nomenclature of species in the network parks.
Select a Park:
Select a Species Category (optional):
Search results will be displayed here.

Visit NPSpecies for more comprehensive information and advanced search capability. Have a suggestion or comment on this list? Let us know.
Last updated: April 18, 2019