Witness Trees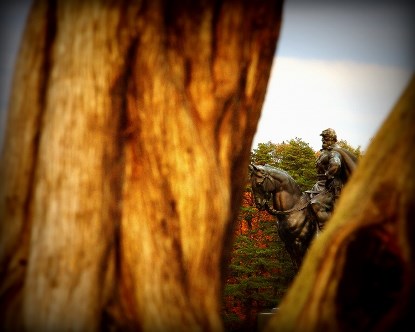 At Manassas National Battlefield, A "Witness Tree" is a tree that was alive during the key events of the First and Second Battles of Manassas. To be a Witness Tree of the American Civil War these trees must be over 150 years old.

There are hundreds of Witness Trees at the battlefield. For example, a common species in the park is Oak Trees which can live over 500 years!

Park staff, with the help of a girl scout dedicated to completing her Gold Award project, identified a handful of these Witness Trees in the Battlefield along our trails systems. Will you be able to discover them all as you journey through the park?
The Witness Trees were located using historic maps and photos, aerial photography, and increment boring sample collection. Increment boring is a process of extracting a very small sample of a tree core with very little impact to the tree. The core sample is then analyzed by counting rings to estimate the age of the tree.

The below map only shows a handful of the Witness Trees in the park. Any tree over 150 years in the park has the potential to be a Witness Tree!
LOS ARBOLES TESTIGO
En Manassas National Battlefield, un árbol"testigo" es un árbol que estaba vivo durante los eventos clave de la primera y segunda batallas de Manassas. Esto significa que estos árboles deben tener más de 150 años. Personal del parque, con la ayuda de una niña exploradora dedicada a completar su proyecto Gold Award, identificó varios árboles testigo en el campo de batalla a lo largo de nuestros sistemas de senderos. ¿Usted será capaz de descubrir a todos en tu viaje a través del parque?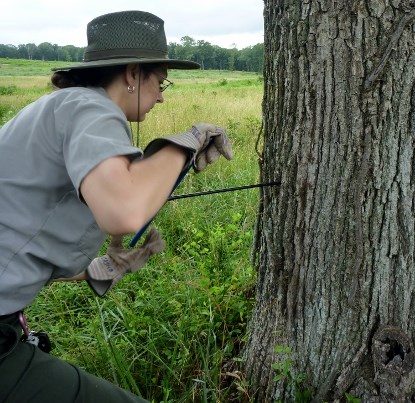 Los árboles testigo se encontraron utilizando mapas históricos y fotografías, fotografía aérea y aburrido muestrario de incremento. Incremento aburrido es un proceso de extracción de una muestra muy pequeña de un núcleo de árbol con muy poco impacto en el árbol. La muestra del núcleo luego es analizada por el conteo de aros para estimar la edad del árbol.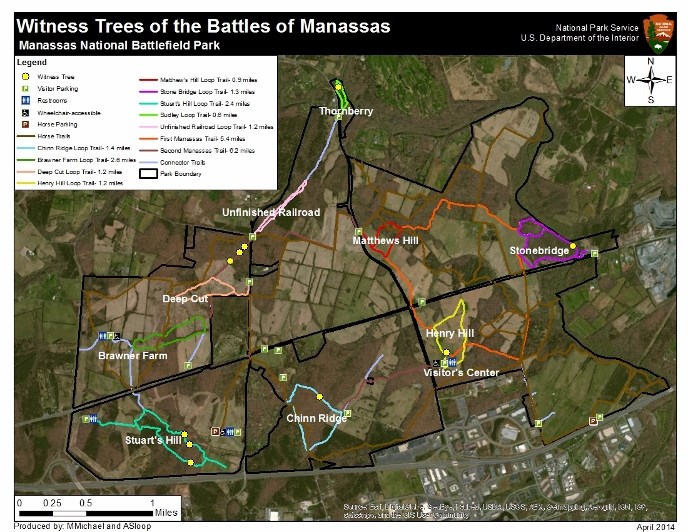 Last updated: April 17, 2017