Wetlands and Seeps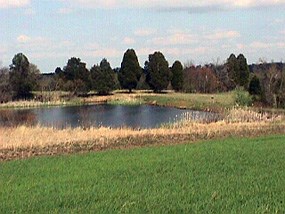 Over 200 acres of wetlands have been mapped at Manassas National Battlefield. This includes both forested and herbaceous wetlands. Some herbaceous wetlands are currently undergoing succession to forested wetland. In general, forest tree species composition changes slowly in response to hydrological alterations while herbaceous vegetative composition often responds quickly to hydrological change. Year to year variation in precipitation affects the boundaries of wet meadow wetlands.
---
Humedales y filtraciones

Se ha asignado más de 200 hectáreas de humedales en Manassas National Battlefield. Esto incluye los humedales tanto arbolados y herbáceos. Algunos humedales herbáceos son actualmente en sucesión para humedal boscosa. En general, la composición de especies de árboles forestales cambia lentamente en respuesta a alteraciones hidrológicas mientras que la composición vegetal herbácea a menudo responde rápidamente al cambio hidrológico. Año tras año la variación en la precipitación afecta a los límites de los humedales de pradera húmeda.
References:
Loomis, D.T. and K.E. Heffernan. 2003. Classification and Mapping of Wetlands at Manassas National Battlefield Park, Virginia: Brawner Farm and Matthews Hill Tracts. Natural Heritage Technical Report 03-21. Virginia Department of Conservation and Recreation, Division of Natural Heritage, Richmond, VA. Unpublished report submitted to the National Park Service. 8 pp.
Last updated: April 10, 2015