Junior Ranger Activities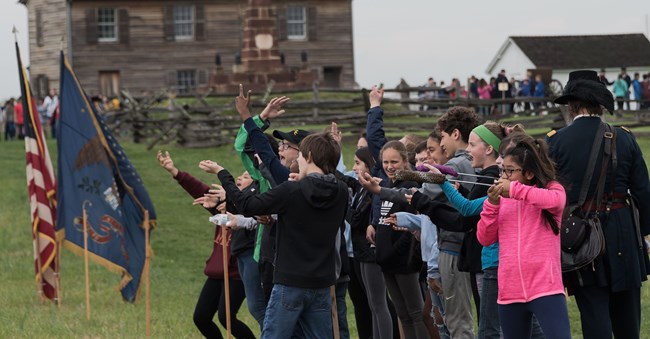 Earn Your Junior Ranger Badge Online!
All you need to do is:
1. Complete 3 of the activities or readings below.
2. Take a picture or draw a picture of what you did.
3. Write down one thing you learned from each of the activities you completed.
4. Please send us the work you completed in steps 2 and 3 directly to mana_education@nps.gov. Make sure to include a mailing address for your badges.
5. If you have any questions, please do not hesitate to
Email us
.
Activities and Readings
1.
Why Manassas?
: In this reading, you will learn a little bit about why Manassas was the site of the first major land battle of the Civil War in 1861, what made it so important a location, and what expectations the soldiers had when they went out to fight. This involves looking at maps and writing a letter home about the battle!
2.
Learn How to Play Mancala!
In this activity, you will learn how to play a popular game that originated in Africa; and one that was a favorite of the Robinson Family, a free African-American family living in the path of war in 1861 and 1862. You will also get to learn about the Robinson Family too!
3.
Peanut Butter and Jelly Archaeology
: This activity directs you to make a peanut butter and jelly sandwich (or you can use substitutes.) The directions will help you to understand why archaeologists do what they do- and you get to have a fun snack too!
4.
Hardtack during the Civil War
: In this activity, you will learn about an important staple in a Civil War soldier's diet- hardtack- including a song the soldiers sang about it! You will also learn how to make your own hardtack and Johnny cakes at home.
5.
Signal Corps Messages
: Learn about sending messages using signal flags during the Civil War and learn what key message was sent during the First Battle of Manassas in 1861. In this activity, you will make a signal flag, learn how to use it, and make your own cipher wheel to code and decode secret messages!
6.
What Survives?
: In this activity, you will learn what the difference is between organic and inorganic materials. You will be tasked with figuring out what objects in your house will survive over time!
7.
The NPS Arrowhead
: Learn about the emblem that sybolizes the values of the National Park Service, the Arrowhead. Color your own arrowhead; and create your own arrowhead emblem!
8.
The Thornberry Children
: This reading tells the story of the Thornberry children who were witnesses to both battles of Manassas in 1861 and 1862. You will get a chance to see photographs of the children, and think about what it would have been like to see these photographs in an exhibit in a major city during the war!
9.
Archaeology
: Learn about what archaeologists do; and learn about some of the archaeological work done at Manassas National Battlefield Park!
10.
Lucinda Dogan
: Read about a widow named Lucinda Dogan who was living with her children near where they battles of Manassas were fought. Learn about her extrodinary compassion for soldiers in both the blue and the grey; and the imapct she made on them.
11.
Hugh Henry
: Read about Hugh Henry, the son of the only civilian killed at the First Battle of Manassas, Mrs. Judith Carter Henry. Find out what Hugh did after the war to survive and take care of his family.
Stay tuned- there's more to come!
Last updated: January 4, 2021