Education at the Battlefield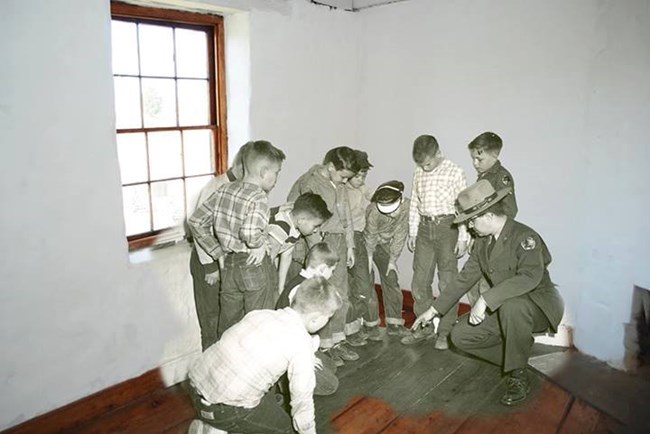 Manassas National Battlefield Park is a 5,000 acre open classroom, where students can learn about the American Civil War and the two major battles that took place here. Review the following pages of information about tours and programs offered at the park. All programs are aligned with the Virginia Standards of Learning and the National Standards for teaching U.S. History.
For ranger-conducted education programs, dates and times are selected on a first-come, first-served basis. If we are unable to provide a ranger for your group on the date and time of your planned visit due to a prior reservation or other staffing concerns, your group will be encouraged to pick another date, attend regularly-scheduled public tours on that date or pursue self-guided activities in the park.
Field Trips
Manassas National Battlefield Park offers guided education programs for students to learn about the American Civil War, particularly the First and Second Battles of Manassas which took place on lands now preserved within this national park. The park also offers environmental education field programs. All educational programming is free of charge.

*Please note: Onsite Programs are limited due to COVID-19 safety precautions.

During this time, while we are offering formal educational programming, you are also welcome to visit the park with your students informally, or we can work with you to create a virtual field trip experience. Please keep in mind if you plan to visit the park, indoor space may be subject to capacity limits. Currently, our theater capacity is limited to 33.

If you would like a copy of our grade-level specific scavenger hunt for students to complete while in the museum, please email us. This scavenger hunt comes in three versions: upper elementary (4th-6th grade), middle School (7th-9th grade), and high school (10th-12th grade.)

While at the park, we strongly recommend you follow the latest state, local, and CDC guidance regarding COVID-19 including social distancing and the wearing of masks for the safety of your group, park visitors, and staff.

Below is a list of the field trip options typically offered at the park:
First Manassas Tour
This is a ranger-guided walking tour designed for school groups of any age. This 45-minute tour covers events and historical themes associated with the First Battle of Manassas. Groups are limited to 50 students. Tours are offered weekdays by advance reservation only. By request, our First Manassas Tour can be tailored to provide more information about the roles of women, African-Americans, and/or the civilian experience. Pairs well with the Scavenger Hunt and Orientation Film.

Scavenger Hunt
The park offers grade-level scavenger hunts that serve as a companion to our museum space are available for school groups from 2nd-12th grade. Plan on at least 30 minutes to complete this activity. Pairs well with the First Manassas Tour and Orientation Film.

Orientation Film, Manassas: End of Innocence
This 45 minute film covers both the First and Second Battles of Manassas through the eyes of those that witnessed them. Pairs well with the Scavenger Hunt and First Manassas Tour.

Virtually Manassas!
Join a ranger coming to you from the Manassas Battlefield from the comfort of your classroom or home! Park staff will work with you to design a program that best meets your needs. Past program topics include, being a Park Ranger and the history of the NPS; the First Battle of Manassas; and the civilian experience during the Civil War.

To Make Reservations:
The park requests that all field trip requests be made at least one month in advance of visitng the park. We receive lots of requests from school groups and bus tours to visit the park, particularly in the spring. We want you to have a pleasant and enjoyable experience without having to compete with other large groups, so scheduling is the key. Please note that due to staffing, we are not able to accommodate groups on Tuesdays or Wednesdays at this time.

While there is no cost for admission to the park, education programs and field trips do require advance reservations. Tour slots are limited and fill up quickly.

In order to submit a reservation request, please email us and we will send you our reservation form. This form will ask you for to provide the following information:
Contact information for two people associated with the group.
A choice of two dates and times.
The number, age, and grade level of participants.
The number of chaperones.*
The type of program that you are requesting.
Trip goals you would like to achieve.
Standards of learning you would like met during your visit.
Special needs requirements.
*All guided tours require a 1:10 adult to student ratio.

If you have any questions related to your visit or reserving a field trip, please contact the park's Education Office at:
Phone: (703) 361-1339 x1205
Email: email us
Bridging the Watershed
The Bridging the Watershed (BTW) program is a field trip for 4th graders, and 6th through 12th graders conducted at the battlefield by a park partner, The Alice Ferguson Foundation (AFF). The mission of this field trip is to provide meaningful watershed educational experiences to local students. The program includes pre-visit activities, a field experience, and post-visit activities.

To schedule your BTW field trip please visit the AFF website.


Last updated: January 27, 2022