Volunteer

Thank you for your interest in volunteering at Manassas National Battlefield Park. Last year over 800 people donated more than 24,000 hours to the park. We have a diverse array of volunteer opportunities, available to both groups and individuals, in a variety of fields. For additional information, please contact the park's Volunteer Coordinator at (703) 361-1339 x1211.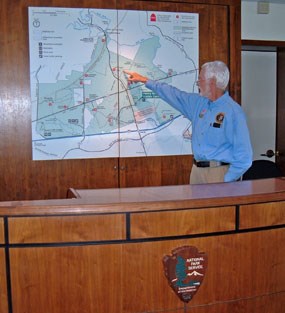 Current Volunteer Opportunities
2020 Park Day - Saturday, April 4
Manassas National Battlefield Park is seeking volunteers (individuals and groups) to assist with the American Battlefield Trust's Park Day 2020 - Saturday, April 4! This annual event, sponsored by the American Battlefield Trust, brings together history enthusiasts in an effort to keep our nation's heritage not only preserved, but pristine!
Work projects will include trash pick-up, invasive plant control, fence construction, painting projects, and trail maitenance. Anyone interested in particpating must register with the park's Volunteer Coordinator Henry Elliott (henry_elliott@nps.gov or 703-361-1339 x1211). The event will begin at 9:00 a.m. and conclude by 12 p.m. Weather permitting.
All volunteers are encouraged to wear long pants and sturdy shoes. Sunscreen and insect repellent are highly recommended.
Visitor Services
Volunteers are needed to help staff the Henry Hill Visitor Center information desk. Duties include greeting visitors and providing them with an orientation of the park's historical resources and programs. Volunteers are also needed to staff the historic Stone House, a pre-war tavern used as an aide station during both Battles of Manassas.
Trail Maintenance
Manassas National Battlefield Park contains more than 40 miles of trails, over half of which are open to horseback riding. The park works closely with two volunteer organizations to perform routine trail maintenance, combat erosion, and address sustainability issues. Hiking trails at the park are maintained with the assistance of the Blue & Gray Trail Crew, and bridle trails are maintained with the assistance of the Battlefield Equestrian Society.
To view additional volunteer opportunities available nationwide, go to www.volunteer.gov/gov.
Last updated: December 1, 2019