Annual Bethune Birthday Celebration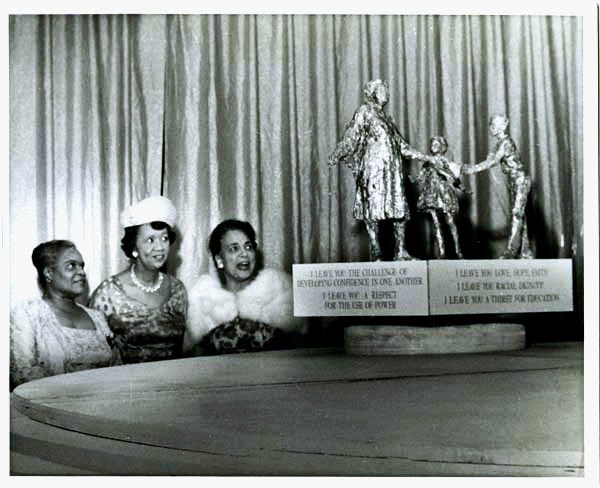 Celebrating Mrs. Bethune
Who doesn't love a good birthday celebration? Each year, the National Park Service staff at the Mary McLeod Bethune Council House NHS honors
Mary McLeod Bethune
with events on her birthday. Each of these events highlight her amazing life and showcases her legacy for all to remember. Mrs. Bethune—educator, civil rights activist, presidential advisor, public servant, and champion of women's rights—was born on July 10, 1875 in Mayesville, South Carolina. In 1974, on what would have been her 99
th
birthday, a memorial in her honor was unveiled in
Lincoln Park
in Washington, D.C. by the organization she founded, the National Council of Negro Women, Inc. (NCNW). Each year, we incorporate that Memorial into our programming to honor its dedication as the first memorial to an African American and a woman erected on public land in the nation's capital.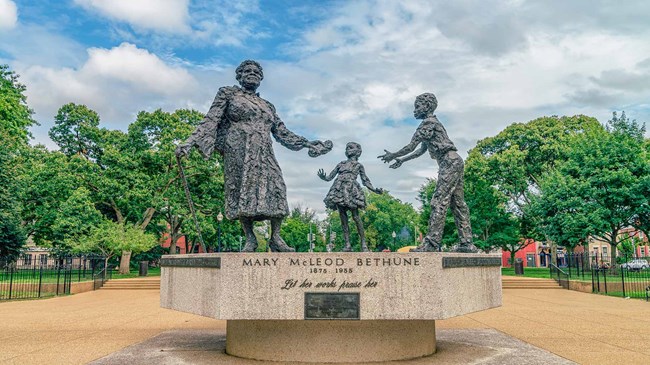 This Year's Celebrations
This year, the National Park Service is celebrating the 146th Anniversary of the Birth of Mary McLeod Bethune with another edition of "Mrs. Bethune's Washington", a VIRTUAL Bus Tour!
Each stop along the Virtual Bus Tour will highlight a special place in the nation's capital and its connection to Mary McLeod Bethune and will be showcased via a 3-6-minute video featuring a ranger and/or a representative from said location. Videos will be scheduled to premiere on our Facebook page at:
www.facebook.com/NPS.MAMC
and can also be viewed on our webpage at:
https://www.nps.gov/mamc/learn/photosmultimedia/index.htm
on each Saturday throughout the month of July at 12 noon.
Here is the schedule:
Saturday, July 3rd - Howard University
Saturday, July 10th - Mary McLeod Bethune Memorial in Lincoln Park
Saturday, July 17th - National Association of Colored Women Headquarters
Saturday, July 24th - National Association of Wage Earners' Headquarters
Saturday, July 31st - Asbury United Methodist Church
Additionally, on Mrs. Bethune's ACTUAL birthday at 3 p.m. (July 10th), join us for another cooking demonstration as we prepare a special recipe from the National Council of Negro Women's "Historical Cookbook of the American Negro", published in 1958 and edited by Sue Bailey Thurman. We hope you will tune in!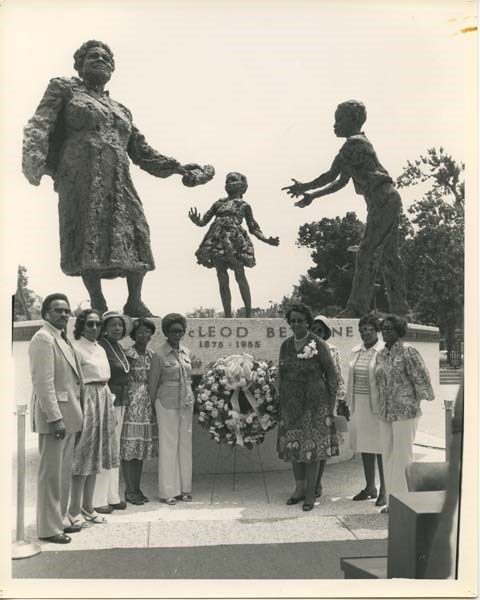 Past Celebrations
During her lifetime, Mrs. Bethune's birthday was often used as a platform for fundraising for the NCNW, as well as Bethune-Cookman University, her school she established in Daytona Beach, Florida. There were a number of events held right here in Washington, D.C. that included venues like the D.C. Armory, Phyllis Wheatley YWCA, and even Griffith Stadium. For several years, the Homestead Grays, a Negro Leagues baseball team, collaborated with the NCNW and sponsored baseball games at Griffith Stadium to help the NCNW in the fundraising efforts for the construction of the Liberty Ship S. S. Harriet Tubman.
After Mrs. Bethune's death, these birthday celebrations continued. Under the administration of
Dorothy I. Height
, NCNW's fourth national president, luminaries such as Congresswoman Shirley Chisholm, actress Cicely Tyson, comedian Dick Gregory, executive/activist Vernon Jordan, and Mrs. Coretta Scott King took part in the celebrations, which helped to bring a visibility to the national organization and Mrs. Bethune's legacy.
Last updated: July 10, 2021