The King Family Home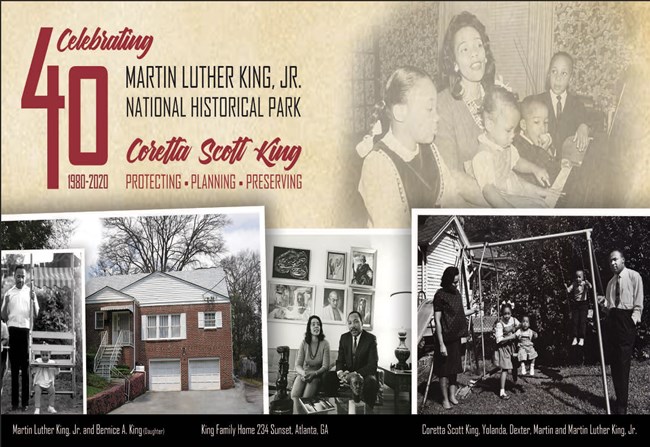 In 2018 Martin Luther King, Jr. National Historical Park expanded its boundary to include the family home of Dr. Martin Luther King Jr. and Mrs. Coretta Scott-King located at 234 Sunset Avenue. in Atlanta's historic Vine City community. This inclusion gives the National Park Service an opportunity to interpret the life of Dr. Martin Luther King, Jr. and Mrs. Coretta Scott-King, broaden interpretation of King's activities with the Southern Christian Leadership Conference (SCLC), and explore the history of the surrounding community.
The King Family Home, originally built in 1933, is in an area that had a racial mix of working class black and white residents from the early to mid-twentieth century. As more African Americans migrated to Atlanta's westside the Vine City community became known for its notable residents linked to the civil rights movement and African American achievement. These range from local educators like Charles Gideon to entrepreneurs and civil right activists such as millionaire Alonzo Herndon and Julian Bond.
In 1965 the Kings purchased the home on Sunset Avenue to accommodate their growing family. Their decision to locate to the working-class Vine City community was in line with King's commitment to the second phase of the civil rights movement which focused on addressing the universal injustices that plagued the working-class and poor.
Following King's assassination in 1968, Mrs. King founded The Martin Luther King Jr. Memorial Center as "The Official Living Memorial" to the life, work and legacy of her husband. The first offices for the King Center was located in the basement of their home. The center relocated and evolved into a world-class learning institution and archive to educate and train individuals in the philosophy and strategy of Kingian Nonviolence Principles and to serve as the world's largest repository of primary source materials on Dr. Martin Luther King, Jr. and the Modern American Civil Rights Movement.
Last updated: October 8, 2020