symbolic_meaning_of_the_mlk_jr_rose_garden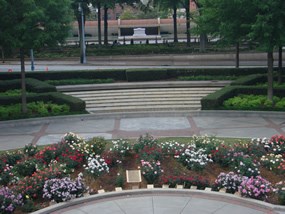 The starburst design reminds us of the brilliance of Dr. King's life and the impact of his ideals on humankind.
The pink roses in the center represent Mrs. Coretta Scott King's oneness with Dr. King and her continuation of his work.
The solid bands of white roses honor the special bond and similarity of peace movements between Martin Luther King, Jr. and Mahatma Gandhi.
The band of red roses that weaves its way through the garden honors all African Americans and their contributions to the history of the United States and the world.
The various clusters of multi-colored roses symbolize the nations of the world and the universal appeal of Martin Luther King, Jr.'s message of peace through non-violence.
Last updated: April 14, 2015