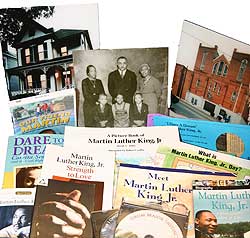 Our Traveling Trunk provides students with hands-on information about the life of Dr. King and the "Sweet Auburn" Community. The Trunk contains photos with captions of historic buildings, background information on the area, videos, speeches made by Dr. King, reading materials, and workbooks with classroom exercises.
The Trunk is available for a two week period. The park will mail the trunk FREE. However, the school is responsible for the cost of returning the exhibit. For more information contact our park's Education Coordinator.
Reserve your Traveling Trunk today by submitting your request.