Volunteer
"Everybody can be great because anybody can serve. You don't have to have a college degree to serve. You don't have to make your subject and your verb agree to serve.... You don't have to know the second theory of thermodynamics in physics to serve. You only need a heart full of grace, a soul generated by love."- Dr. Martin Luther King Jr.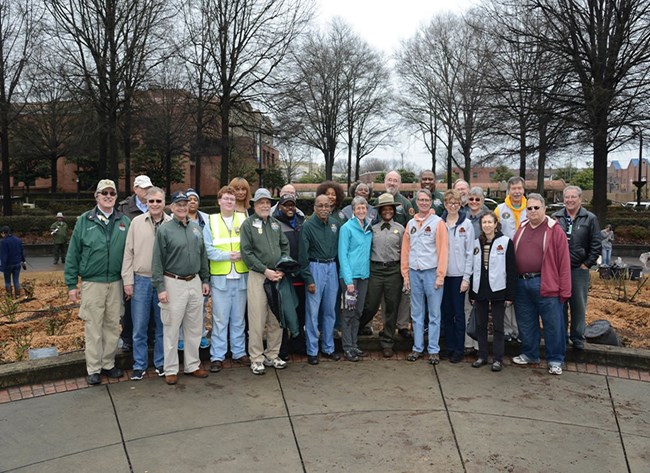 Individual Volunteer Opportunities
Learn how you can be a part of the Volunteers-in-Parks (VIP) team at Martin Luther King, Jr. National Historical Park. The VIP team is comprised of nearly 100 volunteers that donate more than 14,000 hours of service annually. From greeters, interpreters, and docents to carpenters, electricians, and landscapers, Martin Luther King, Jr. National Historical Park has a place for you! A minimum commitment of 8 hours per month is required. Visit volunteer.gov (keyword search: Martin Luther King) to learn more about opportunities to serve at Martin Luther King, Jr. National Historical Park and apply today.
Once your application is received, the park's Volunteer Coordinator will contact selected applicants to discuss the position in-depth, answer questions, and schedule orientation and training. All volunteers receive a minimum of 8 hours of training on-site with an experienced mentor or ranger and are invited to monthly volunteer training sessions and on-going learning opportunities. In addition, volunteer uniforms and materials are provided.
Group Volunteer Opportunities
If you're interested in volunteering but cannot commit to a regular volunteer schedule, consider joining us during our monthly volunteer "Day of Service" event. These events are typically held on Saturday once a month and are appropriate for families, individual drop-ins, and groups. See upcoming events below. Check back regularly for new opportunities to serve.

"It really boils down to this: that all life is interrelated. We are all caught in an inescapable network of mutuality, tied into a single garment of destiny. Whatever affects one destiny, affects all indirectly."- Dr. Martin Luther King, Jr.
Last updated: April 26, 2019