Frequently Asked Questions About The King Center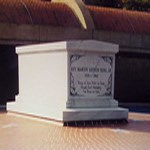 1. When was the King Center constructed?
The present structure was completed and dedicated on January 15, 1982. The organization itself was organized in 1968.
2. Is Martin Luther King, Jr. really buried here?
Yes. Dr. King is really buried here.
3. Can the public use the King Center Archives?
Persons desiring to use the archives must contact the King Center concerning their availability.
4. Where is the Eternal Flame?
The flame is located directly in front of the tomb as you face the street.
5. Why is the eternal flame not lit?
The flame is always lit. Sometimes it is difficult to see during the day.
6. Is this tomb Dr. King's grave?
Yes. This is Dr. King's grave.
7. Where is the King Center located?
The address of the King Center is 449 Auburn Avenue, N.E. Atlanta, Georgia. It is next to Ebenezer Baptist Church's Heritage Sanctuary.
8. Was Dr. King always buried at the King Center?
No. Initially Dr. King was buried at Southview Cemetery.
9. In what type suit is Dr. King buried?
Dr. King is buried in a black suit.
10. How long has the King Center been in existence? The King Center was organized in1968. The present structure, located on Auburn Avenue, was constructed in stages beginning in the 1970's and dedicated on January 15, 1982.
11. Is the King Center open for tours?
Freedom Hall in the King Center grounds is open as an exhibit area. It is open daily from 9:00 am to 5:00 pm; 9:00 am to 6:00 PM summer hours.
Last updated: April 14, 2015