Womens History in Lowell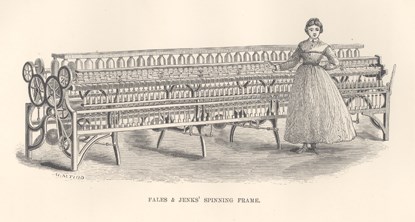 As much as the massive brick mills along the Merrimack, "mill girls" were an innovation of the early industrial revolution in New England. Lowell's mill workforce in the antebellum decades consisted largely of young single women from the farming communities of northern New England. Most were between 15 and 25, signing on for short stints that rarely exceeded a year at a time. Overall, they averaged about three years of employment before leaving the mills for marriage, migration to the west, other employment, or return to their hometowns.
Lowell hosts "Lowell Women's Week" annually during the first week of March, celebrating the historical and contemporary contributions of women in this city. For more information, please visit the Lowell Women's Week website.


To discover more about the women who came to work in Lowell's mills, explore these links:
Mill Girls

Into and 1840s Boarding House Exhibit & the Boarding House System
NOTE: The Mill Girls and Immigrants Exhibit is open seasonally. Please check the website for current information.
Lucy Larcom: Writer, Teacher, Poet

Sarah Bagley: Mill worker and Activist

Boarding House Keeper

Galusha Family Collection

The Women's Activism in Lowell Online Exhibit

The Lowell Offering: Written and published by women working in Lowell between 1840 – 1845. From UMass Lowell Center for Lowell History
Additional Mill Girl materials from UMass Lowell Center for Lowell History:

Links to additional related websites from UMass Lowell Center for Lowell History:
Last updated: June 3, 2023