The 1915 Referendum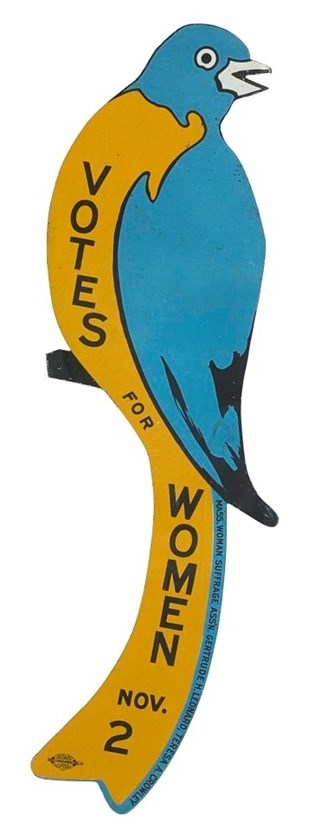 In 1915 the state of Massachusetts held a referendum on the question of woman suffrage – with a majority vote, all women in the state would be able to vote in state elections.
In Lowell, the campaign for suffrage never got off the ground. While a few rallies were held on Kirk, Merrimack and John Streets this year, they were never frequent or popular enough to garner much attention or sympathy. The one demonstration that did get people's attention was the 1915 Fourth of July parade. Local women dressed in costume as "Justice" and the 12 states that passed suffrage laws at the time. The demonstrators endured a terrible rainstorm that day, which showed their resolve and impressed viewers.
Massachusetts did host one of the most fervent anti-suffrage movements in the nation, and while they often overlooked Lowell (given its lack of a proper suffrage movement to counter), they did lash out in September of 1915. Anti-suffragists alleged that Lowell suffrage supporters secretly accepted donations from liquor interests. While this was easily debunked (liquor interests had come out decidedly
against
woman suffrage, afraid that women voters could pass laws banning alcohol), it did cause something of a commotion for a time.
Women in Massachusetts did not get the right to vote in 1915. The referendum – statewide and in Lowell – failed. In Lowell, only 4,931 votes out of around twelve thousand favored suffrage. While one district (the Highlands) did vote for woman suffrage, the other eight districts voted in opposition. Women who came from more working class or immigrant neighborhoods were marginalized in multiple ways. As was the case in many urban communities, men in Lowell's working class and immigrant neighborhoods were concerned about the livelihood of their social clubs and activities, and whether allowing access to the vote for women would result in the prohibition of alcohol.
While this referendum was foiled, nationally women gained the right to vote when the 19
th
Amendment was ratified and became law on August 26
th
, 1920, just five years later. The efforts of national and state campaigns all contributed to this victory, as Massachusetts was the 8th state in the union to ratify the amendment on June 25, 1919, not even a month after the issue came up for debate.
To learn more about Massachusetts and the 19th Amendment, follow
this link
.
Last updated: March 8, 2022