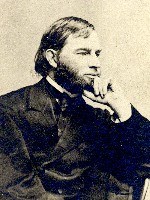 Samuel Longfellow was born in Portland, Maine on 18 June 1819. The youngest child of lawyer and Congressman Stephen Longfellow and his wife Zilpah Wadsworth Longfellow, Samuel was educated at the Portland Academy, which his elder brothers and sisters attended, and his childhood letters and journal show a precocious aptitude for literature, art, and foreign languages.
Samuel went to Harvard College, where older brother Henry was teaching. He took Henry's German class translating Faust as well as core courses like Rhetoric and Mathematics. His other languages included French and Italian.
After a short stint teaching at a small home school near Elkridge, Maryland, Samuel entered the Harvard Divinity School in 1839, an epicenter for the Transcendental movement that would have a deep impact upon his approach to religion. During a break from his studies at Harvard, he served as a tutor to the children of American Consul Charles Dabney on the island of Fayal in the Azores from 1843 to 1844.