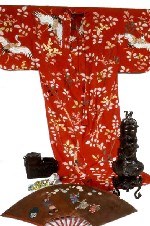 Asian Collections
The Japanese and Chinese collections reflect generations of interest in Asian art, culture, and literature. The Longfellows' Asian collections are significant because of their provenance and context, and provide insights into the importance of international art to one nineteenth century family.
The site's Japanese collections reflect transformations in both Japanese and American culture. After the Meiji Restoration in 1868, Japanese culture became increasingly westernized. In turn, late nineteenth century Americans' lives were transformed by the increased availability of Japanese imports and travel. A "Japan Craze" spread through Boston and beyond in the period between 1870 and 1890.
The collections include a rich assortment of silk kimono, obi, and other Japanese textiles, including some outfits custom designed for Charles Longfellow. Other early Meiji-era items include atlases, printed books, watercolors of Noh theater productions, and scrolls. Charles Longfellow's papers include over 350 photographs, including rare images of the Ainu people.