Fine Art Collection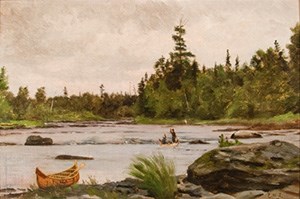 The fine art collection numbers about 2,000 works on exhibit and in storage. It includes paintings, drawings, prints, and sculpture that range in date from the seventeenth to the early twentieth century.
The collection showcases the tastes and interests of Henry Wadsworth Longfellow, his wife Fanny, their children, and other family members and friends. Much of the collection is personal in nature, including gifts from artists the Longfellows met or knew, portraits of family members and close friends, and purchases made during the family's travels.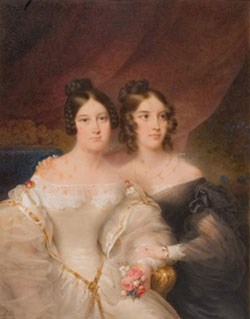 The wealthy Appleton family commissioned portraits by well-known artists, including several paintings by G.P.A. Healy, a pair by Gilbert Stuart, and a miniature by Jean Baptiste Isabey. Ninteen-year-old Fanny Appleton sat for a marble bust by Lorenzo Bartolini in 1836. Her father's marble bust was sculpted by James Wyatt, and her uncle Samuel Appleton's by Benjamin Paul Akers.
The Wadsworths and Longfellows of Maine had their portraits done in paper silhouettes by artists including W. King, Master Hubbard, and Auguste Edouard.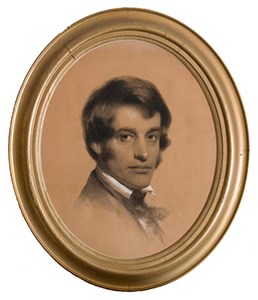 As Henry Longfellow gained wealth and prominence, he and his family were captured by painters and sculptors. Of particular note for their fine quality are ten crayon portraits by Eastman Johnson. Beginning in September 1846, Henry Longfellow commissioned this series of portraits of his sisters and close friends. In 1848, Eastman drew a double portrait of Longfellow's sons.
Other portraits of Henry Longfellow by Cephas Giovanni Thompson, Francis Alexander, and Samuel Lawrence hang in the house. Three busts of Longfellow decorate the Blue Entry, sculpted by Edward Augustus Brackett in 1844, Benjamin Paul Akers in 1851, and Samuel Kitson in 1879. Samuel Worcester Rowse drew Fanny Longfellow and two of her daughters in the 1850s; the three girls were painted together in 1859 by Thomas Buchanan Read.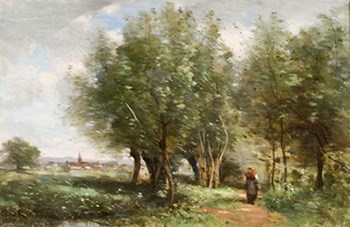 Fanny Longfellow's brother Thomas Gold Appleton had ambitions as an artist, but became a collector and patron of the arts instead. Many of the works in the house by notable artists were originally part of his collection, willed to his nieces and nephews in 1884, including works by Jean Baptiste Camille Corot, Winckworth Allan Gay, and John Frederick Kensett.
Family friend Charles Sumner likewise bequeathed his collection of bronzes and marble statues to the Longfellow children upon his death in 1874.
The Longfellows' grandson H.W.L. Dana served as a trustee for the Washington Allston Trust. During his lifetime, many paintings by Allston temporarily resided at his house; these were distributed to other public collections in 1956, but twenty original studies and drawings remain here.
Galleries of Artwork
A selection of watercolors collected by the Longfellow family.

The oil paintings in the collection include portraits of the extended Longfellow family and landscapes collected according to the interests

Sculpture commissioned and collected by the Longfellow family.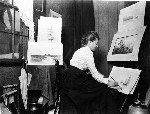 Family Artwork
Professional and amateur works done by family members figure prominently in the collection, and are linked to family papers in the archives.
Fanny Longfellow was a gifted amateur artist. Her six sketchbooks and about 100 loose drawings contain largely pencil drawings of her European tour, the Berkshires, and Woolwich, England.
Ernest W. Longfellow trained professionally as an artist in London and Paris; his wife Harriet Spelman Longfellow was an amateur artist as well. In his will, Ernest left many of his paintings to the Museum of Fine Arts, Boston. The house collection includes about 30 of his finished oil paintings - notably a portrait of his father at 69 - as well as watercolors and sketchbooks.
Henry Longfellow's niece Mary King Longfellow was a professional artist as well, known in Portland, Maine, for her watercolor seascapes. Her brother, Alexander W. Longfellow Jr., was a professional architect and an amateur artist.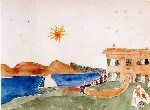 In addition, there are approximately 600 drawings and watercolors done by the Longfellow children in the 1850s and 1860s. The children copied from drawing books, took portraits of each other, friends, and family, and drew landscapes of their homes in Cambridge and Nahant. Many of these are annotated by Henry or Fanny Longfellow as to date, artist, and location.
Last updated: August 24, 2022