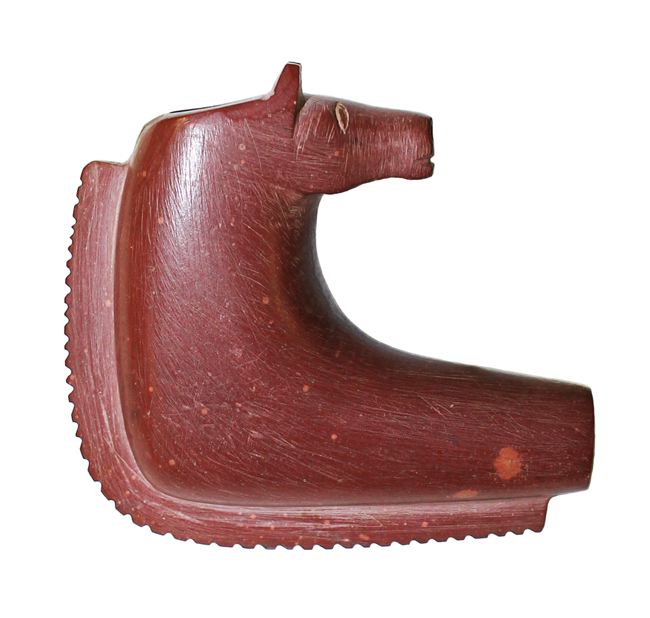 In observance of Native American Heritage Month, November's object is a pipe made of red stone from a significant quarry in present-day Minnesota.

The stone pipe is carved in the shape of a horse's head, with a serrated ridge reminiscent of a horse's mane running along the front and underside of the pipe's bowl and shank. It is made out of a reddish stone known as catlinite. Catlinite is one of the softest stones in the world, and the red variety found in the quarries in Minnesota is regarded as sacred by a number of Native American tribes. The site of these quarries is now Pipestone National Monument, and only members of federally-recognized tribes are eligible to receive permits allowing the stone to be quarried.
The identity of the pipe's creator is unknown, possibly a member of a Plains tribe, but it is established that Henry W. Longfellow received the pipe in 1858 from Francis H. Brown. Brown was a recent (1857) graduate of Harvard University. In 1861 he graduated from Harvard Medical School and later became one of Boston's most prominent doctors and a founder of Boston Children's Hospital. Brown sent Longfellow a note along with the pipe, writing "I enclose to you a specimen of stone from the "Great Red Pipe Stone Quarry" mentioned in the first canto of your Song of Hiawatha. I can vouch for the genuineness of the specimen." Brown was referring to the opening lines of chapter I of The Song of Hiawatha, which read:
"On the Mountains of the Prairie
On the great Red Pipe-Stone Quarry,
Gitche Manito, the mighty,
He, the Master of Life, descending,
On the red crags of the quarry
Stood erect, and called the nations,
Called the tribes of men together."
How Francis H. Brown initially obtained the pipe is still a mystery. The piece is just one of many souvenirs sent to Longfellow by people who admired the poet and his work.