Alaska Native Heritage at Glacier Bay National Park and Preserve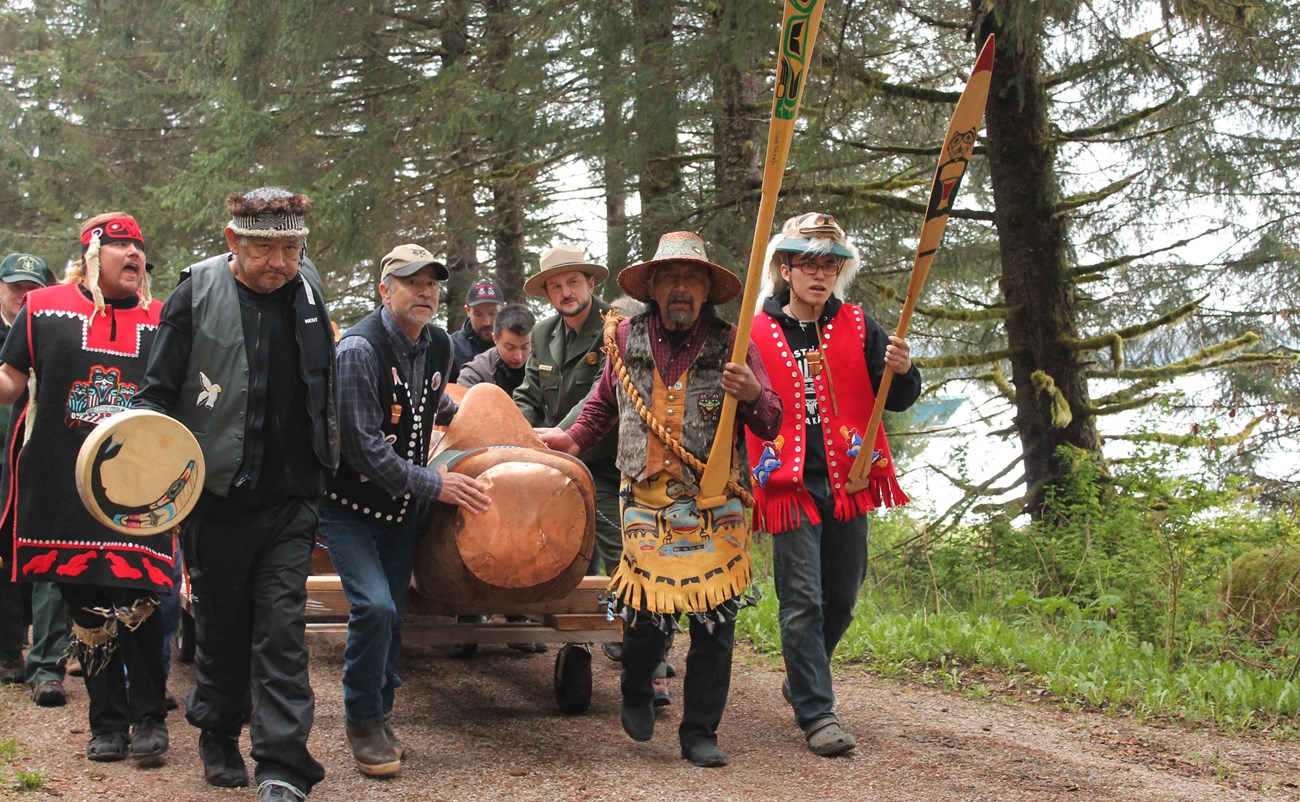 Lingit/Tlingit Homeland covers much of Southeast Alaska, from Yakutat in the north to Ketchikan in the south. The ancestors of the Huna Tlingit occupied Glacier Bay long before the Little Ice Age, sustaining themselves on the rich abundance of land and sea.
Although most Huna Tlingit today live across Icy Strait in the modern village of Hoonah, Glacier Bay remains their ancestral Homeland Glacier Bay as Homeland - Glacier Bay National Park & Preserve (U.S. National Park Service) (nps.gov). The lands and waters of the Glacier Bay area sustain the Huna clans physically, but more importantly their culture is nourished by ongoing connection with a place that holds the stories, songs and place names of their ancestors.
Traditionally, four Huna Lingit clans occupied territories in and around Glacier Bay. When Glacier Bay became a National Monument in 1925, its borders encompassed much of the Huna Lingit Homeland. Over time, federal laws curtailed Native activities within the monument (and later) boundaries. So began a painful period of strained relations between the Huna Lingit and the National Park Service.
Focused relationship building efforts have brought much healing. In recent years, the National Park Service and Hoonah Indian Association, the tribal government, have worked cooperatively to reinvigorate those traditional harvest activities that are compatible with current regulations, develop educational programs for Huna youth, sponsor summer culture camps, and collect and preserve oral histories. Each year, the park sponsors a range of cultural trips which allow Huna youth, elders, and other tribal members the opportunity to reconnect with Glacier Bay and share their knowledge of, and experiences with, this place that figures so prominently in their spiritual lives. Gull egg harvests, once illegal in the park, have been reauthorized through legislation.
One of the most significant cooperative venture now graces the shores of Bartlett Cove. Xúnaa Shuká Hít, roughly translated as "Huna Ancestor's House," is the first permanent clan house in Glacier Bay since Lingit villages were destroyed by an advancing glacier over 250 years ago. This clan house serves as a gathering place where tribal members can reconnect with their treasured homeland through ceremonies, workshops, camps, tribal meetings and other events. It also provides park visitors with opportunities to learn about Huna Tlingit history, culture, and life ways.

To learn about the indigenous people of Dry Bay, in the northern portion of the preserve, listen to interviews as part of a Project Jukebox Project Jukebox | Digital Branch of the University of Alaska Fairbanks Oral History Program (uaf.edu). Dry Bay is the place of origin of several Lingit clans. Changing times and economic forces, however, dispersed the clans, with many people settling in Yakutat. Over the years, many Dry Bay people returned seasonally to fish, hunt, and trap, and kept alive their connection to this place.
Visit the park website at: Glacier Bay National Park & Preserve (U.S. National Park Service) (nps.gov)
Last updated: November 2, 2021