Civil War on Lookout Mountain - 1863-1864 CE
While Lookout Mountain was bookended to the north and the south by military action, the main body of mountain - to include what is now Little River Canyon National Preserve - was too rugged a barrier, restricting movement of armies, and accordingly saw nothing more than the occasional scouting mission.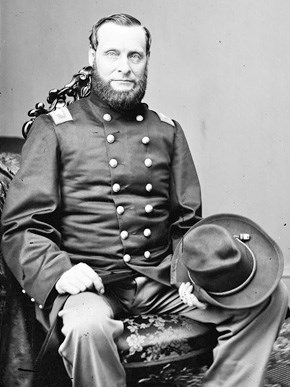 Streight's Raid: April 19 - May 3, 1863
From April 19th to May 3rd, 1863, Union Colonel Abel Streight led a raid seeking to cut off Chattanooga from the Western and Atlantic Railroad. While Union General Grenville Dodge provided a diversionary attack on Tuscumbia, Alabama, Streight led his 2,000 troops into northern Alabama. To deal with the rugged terrain of northern Alabama, Streight elected to use mules rather than horses, a decision which was problematic from the beginning as many of the mules arrived in poor condition. The mules would be troublesome later when a Confederate cavalry detachment caused the mules to stampede and scatter, costing Streight's troops a couple days to round them up.
Despite the setback, Streight and his men made quick progress into northern Alabama with no resistance. However, thanks to information received from local residents, Confederate Nathan Bedford Forrest was able to plan accordingly for a confrontation. On initial contact, a detachment of cavalry led by Forrest's brother, Captain William Forrest, was lured into a trap - the first and last success Streight would have.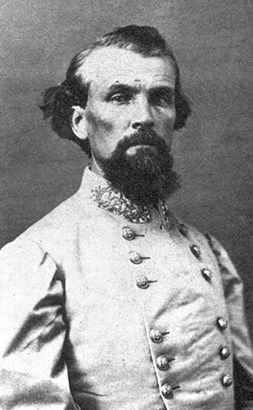 General Forrest, known to be an aggressive and skilled tactician, pursued Streight's forces and forced the Union colonel to discuss terms of surrender. Forrest prepared for the meeting by spreading his trooops out, having couriers from non-existing units come and go with reports, leading Streight to believe he was greatly outnumbered and outmaneuvered. Streight surrendered his 2,000 troops to Forrest's calvary, numbering only 600.

Although an ambitious plan to cut the Confederate city of Chattanooga off from critical supplies, Streight's Raid, and his surrender to a numerically inferior force, was an embarrasment to the Union and bolstered the morale of the Confederate troops. It would be, however, one of the last defeats for Union forces in the South.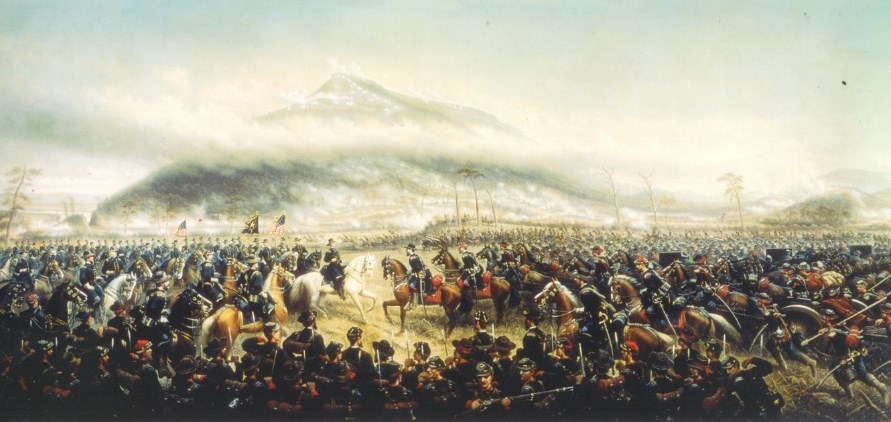 The "Battle Above the Clouds": November 24, 1863
The Confederate city of Chattanooga had changed hands, having been taken by Union forces. Upon their defeat at the Battle of Chickamauga, Union forces retreated back to Chattanooga, where they were beseiged by Confederate forces led by Confederate General Braxton Bragg. Union General Ulysses S. Grant arrived to take command of the situation, hoping to break the Southern troops and open up the heart of the South.

On November 23, 1863, Union forces marched out of Chattanooga and took on Confederate forces at Orchard Knob, forcing Bragg's troops back to Missionary Ridge. While Grant was able to observe and plan from higher ground, Bragg received reinforcements.

Novermber 24 started as a foggy day, and Union troops intended to take Missionary Ridge, but accidenty attack a hill to the north. The diversion they used to begin the assualt was to attack Confederate troops on Lookout Mountain, which stood prominently above Chattanooga and the Tennessee River. This battle, the "Battle Above the Clouds", forced Confederate troops off the mountain and down to Missionary Ridge.

The following day would find Union and Confederate troops clashing over Missionary Ridge, with Union troops ultimately winning the day and forcing Confederate forces south into Georgia.

Visitors can explore Chickamauga & Chattanooga National Mililtary Park and visit Point Park, where they will find monuments and a view of the contested lands below.
Union March on to Atlanta (and past Canyon Mouth Park)

With the success at Chattanooga, Union forces poured down on the retreated Confederate troops. The Union 17th Army Corps led by General James B. McPherson, having marched to Huntsville and then crossing the Tennessee River, brought the Civil War once again to today's Little River Canyon National Preserve's doorstep, with the army marching past the Canyon Mouth Park area.
McPherson's troops would pass once again by Canyon Mouth Park as they fought running battles as Confederate forces fled.

For the rest of the Civil War, Lookout Mountain was a tourist destination for Union soldiers and civilians, and a photographer even established a studio to capture portraits of soldiers on the point.

---
Last updated: June 17, 2021